This post may contain some affiliate links. When you click through and make a purchase we may receive some commission, at no extra cost to you.
Being a vegan in Tokyo doesn't have to be a challenge when there are so many delicious restaurants to choose from! While traditional Japanese cuisine heavily features meat and fish, there are still plenty of options for vegetarians and vegans to enjoy the city. In fact, you can find restaurants that offer delicious vegan versions of Japanese classics such as sushi, ramen, udon, and more. While being vegan may require some extra research and effort, we've helped you get started with this list of ten of the best vegan restaurants in Tokyo. 
Enjoy!
1. T's Tantan
Ramen lovers rejoice! T's Tantan is a popular vegan ramen restaurant in Tokyo Station's Keiyo Street shopping area. They specialize in tantanmen, a spicy Sichuan-style ramen dish made with a rich sesame-based broth and topped with various vegetables, tofu, and vegan meat alternatives. You'll also find plenty of other ramen options and side staples like gyoza dumplings and fried rice. This is a treasured place as most ramen dishes are typically made with meat or fish-based broths, so finding an all-vegan version has to be on your must-try list.
Website: T's Tantan
2. Vegan Ramen UZU Tokyo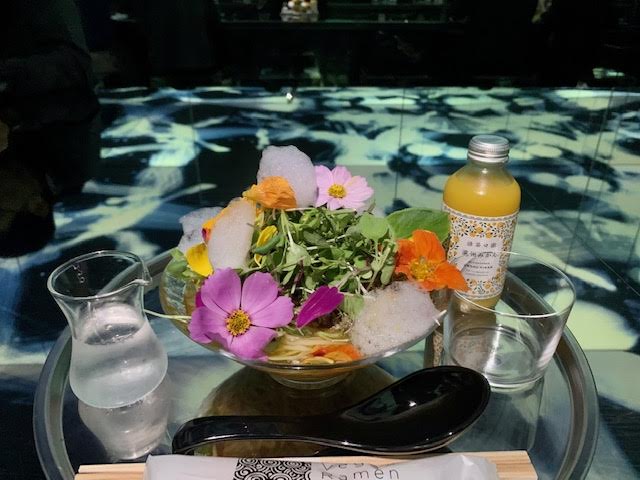 Here is a perfect example of food becoming art (or is it art becoming food?). Vegan Ramen UZU Tokyo is also a message to people who think that vegan food has to be bland! With the Toyosu teamLab Planets museum as the backdrop to this intimate restaurant, you can be assured you're in for something unique. You can choose between dining on the one-of-a-kind One Stroke Bench outside or in the dining room which is floor-to-ceiling art. The mirrored room reflects digital art that will fill your senses with an unforgettable experience. The ramen itself is delicious, and there is even vegan ice cream to satisfy you after your meal. 
Website: Vegan Ramen UZU Tokyo
3. Saido
This Jiyūgaoka area restaurant sees itself as a visionary for its interpretation of Japanese food. Saido utilizes fresh, local ingredients sourced from local farmers without using animal products, chemical additives, or refined sugar. Their signature dish is the "Namero," a Japanese tartare usually made with raw fish. At Saido, we see it reimagined with soy-based alternatives to create a memorable and delicious meal. You'll also find an extensive wine and sake menu to enjoy a fine dining experience without meat. 
Website: Saido
4. Brown Rice by Neal's Yard Remedies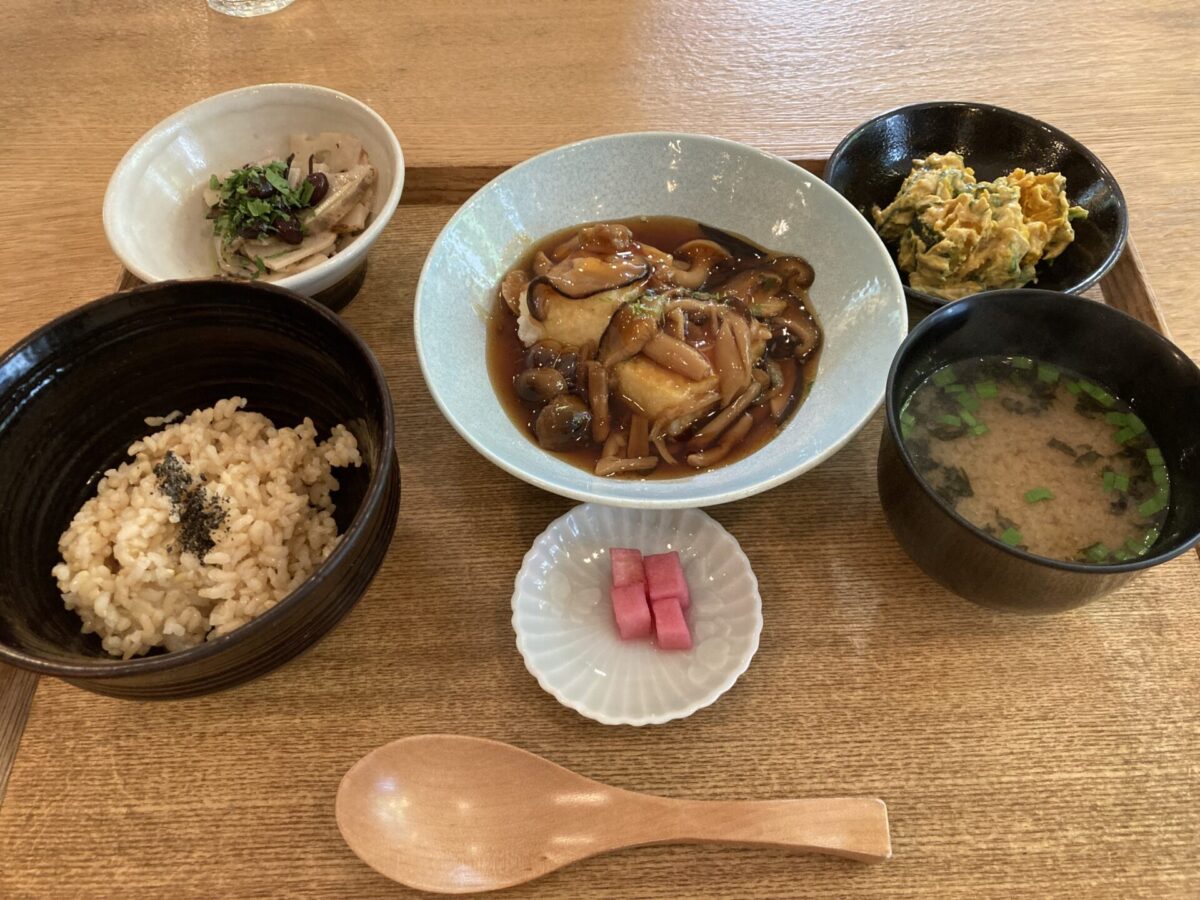 Here is a restaurant in the Omotesando/Harajuku area that takes pride in producing healthy, organic vegan food that tastes good and looks beautiful. A traditional Japanese diet features fermented food like miso and pickles, tofu, brown rice, seaweed, and vegetables, and these ingredients are all incorporated into the menu. Feast on seasonal set meals consisting of mains like grilled tofu with ginger sauce or curry and rice. A trip here is especially worthwhile because the restaurant is attached to the shop Neal's Yard Remedies, where you can stock up on things like organic skincare and tea.
Website: Brown Rice
5. AIN SOPH.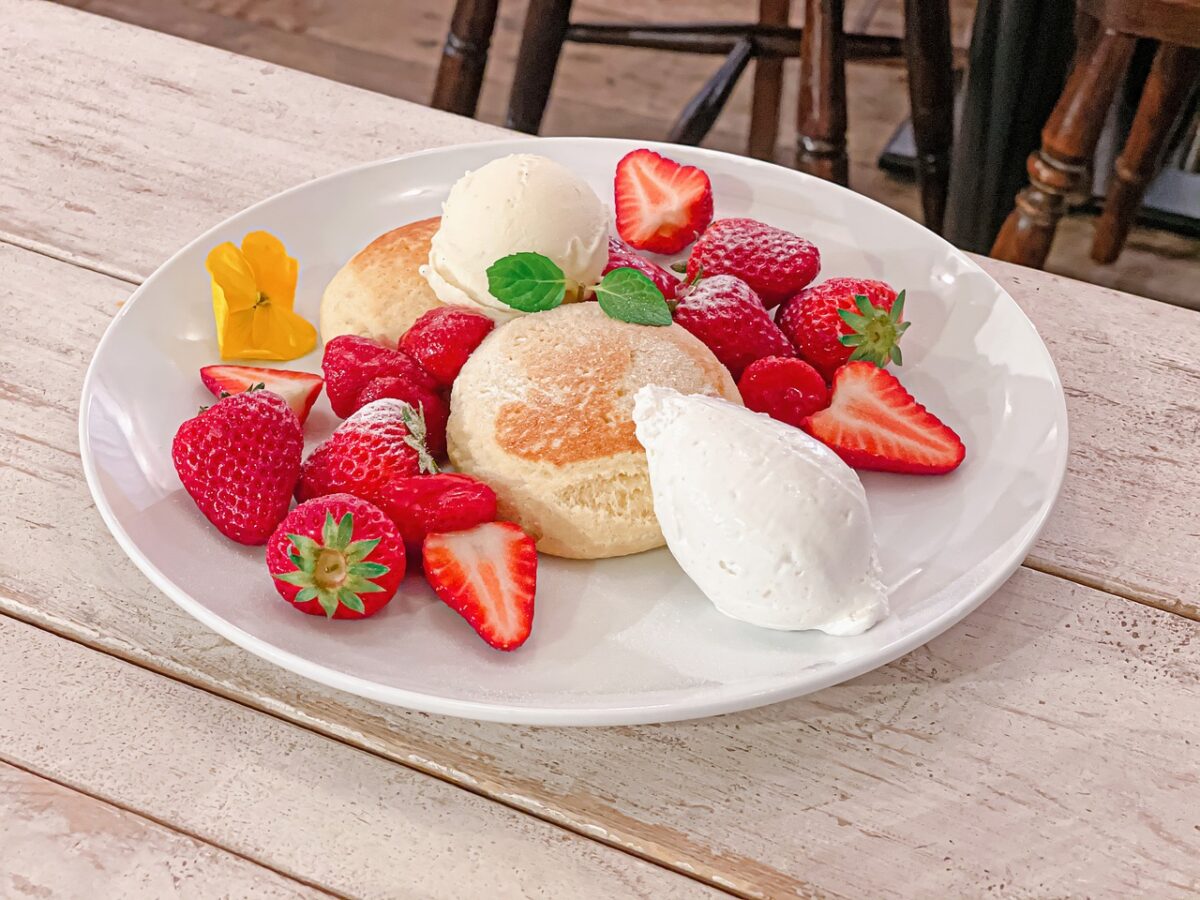 This popular vegan chain has outposts in a few different areas of Tokyo, like Ginza, Shinjuku, and Ikebukuro. Each location has a unique menu and vibe, so it's worth checking all of them out! For example, in Ginza (the original location), you'll find a full patisserie on the first floor and a restaurant above serving Japanese fusion food. If you want to head to the birthplace of AIN SOPH's heavenly pancakes, head to Shinjuku. Or, for the most family-friendly location, go to Ikebukuro's spacious restaurant with plenty of space for strollers and children. You will surely find something filling and delicious with options like burgers, sandwiches, and pasta at any location. 
Website: AIN SOPH.
6. THE FARM CAFE
When you're hungry, why not relax by the river at THE FARM CAFE in Asakusa? The Japanese and Western food menu is all made from plant-based ingredients and without unhealthy chemicals or white sugar. However, that doesn't mean missing out on taste with plates like tempura bowls, falafel, and an avocado/soy meat "chicken" burger. The delicious food adds to the perfect view for unwinding and taking a break while sightseeing in Tokyo. 
Website: THE FARM Cafe
7. Vegan Cafe PQ's
Step into this small Japanese curry restaurant and instantly feel the down-to-earth vibe. The bohemian-studio-style place is a cozy spot, from the green plants throughout the small space to the floor-to-ceiling windows. Then there's the colorful curry, full of taste and fresh plant-based ingredients. Japanese curry is a popular dish all over the country but often has a meat base. This means that finding a delicious vegan version is great news! If you want to try more than curry, there's also a large variety of drinks and desserts as PQ's is also a coffee shop. 
Website: Vegan Cafe PQ's
8. Komaki Shokudo
Look no further than Akihabara for authentic Buddhist cuisine in a cafe-style restaurant. Komaki Shokudo follows Buddhist philosophy and avoids food with animal ingredients or using the "five pungent vegetables" (onions, garlic, green onions, chives, and leeks). That said, you won't miss out on flavor with dishes like shoujin curry, made with seasonal organic vegetables, or the omuraisu (rice omelet), made without real eggs. The interior has a comfortable atmosphere thanks to the wooden furniture and warm lighting. Take advantage of the dessert menu; from sweet homemade warabimochi to fancy parfaits made with soy milk ice cream, you can leave with your belly full and your sweet tooth satisfied. 
Website: Komaki Shokudo
9. Nezunoya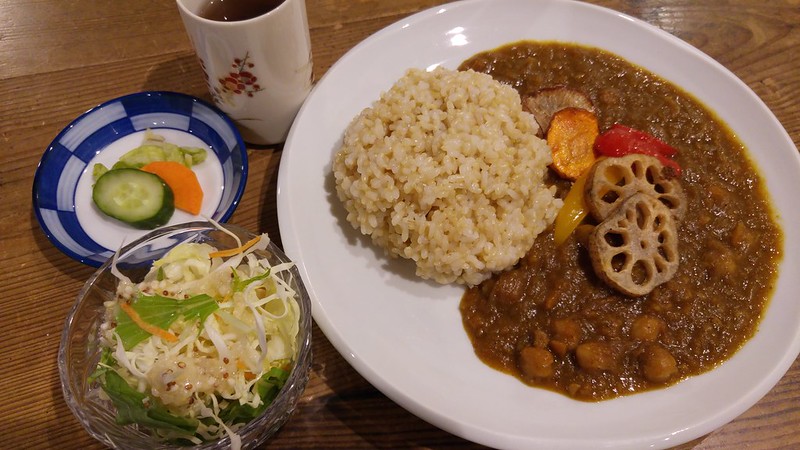 Another vegan restaurant in the Akihabara area is Nezunoya, a cute organic restaurant serving healthy, vegan meals. Look out for an old-timey-looking grocery shop selling organic, vegan-friendly food, and you'll find a cafe in the back. The store is perfect for locals stocking up on veggie fare, and the back is a bright, airy restaurant that's ideal for anyone. The menu features a daily lunch special, an onigiri set, curry, and dessert. Simple and delicious, you'll feel like you've come across a real hidden gem with Nezunoya. 
Website: Nezunoya
10. Mr. FARMER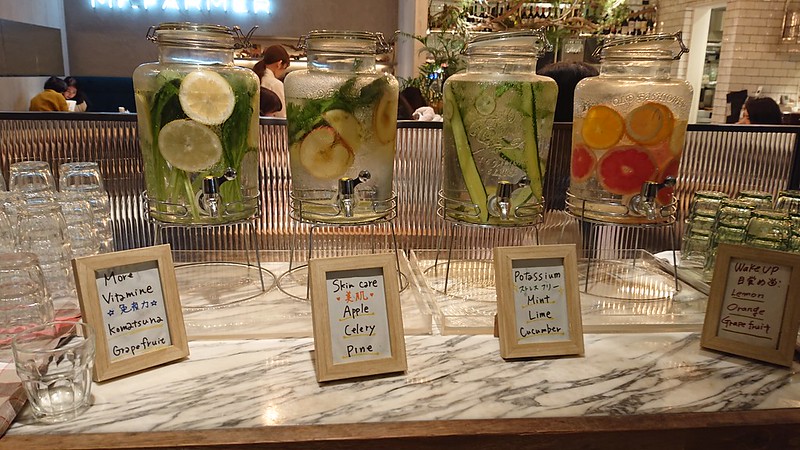 With four locations in Tokyo, Mr. FARMER brings food from the west coast of the United States of America to Japan. The menu offers vegan, gluten-free, and powerful protein-based foods. You'll find bowls brimming with vegetables, salad wraps with hemp tabbouleh and soy meat, vegan burgers, smoothies, and lots more at this popular restaurant. Mr. FARMER is an excellent option to change things up when you want a different style of food. Like the restaurant's name, the fruits and vegetables served here are sourced from farmers across Japan. 
Website: Mr. FARMER
When you're in a city the size of Tokyo, there are so many options for good vegan restaurants. Which one would you go to first?
Japan Wonder Travel Tours in Tokyo
Japan Wonder Travel is a travel agency that offers guided tours throughout Japan.
From private walking tours to delicious Food and Drink tours, we can help organize the best tours just for you! If you want to explore Japan and learn more about the history and backstories of each area you are traveling in, our knowledgeable and friendly guides will happily take you to the best spots!
In addition, we can provide you with any assistance you may need for your upcoming trip to Japan, so please feel free to contact us if you have any questions or need some help!
Find the Other Tours
Follow us on Instagram, Facebook, Twitter, and TikTok for more travel inspiration. Or tag us to get featured!
Happy traveling!
Other articles you might be interested in