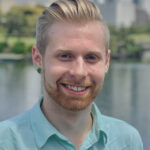 Writer's Profile
Bryce was born in California, and raised near Seattle, Washington! He's been living in Japan for about 5 years now, the first 3 spent studying at Temple University Japan. His main passion in life is writing and producing music, more specifically EDM if anyone is curious! He is very fond of snowboarding, cooking, traveling, playing video games; all of which he'd ideally enjoy with the company of his great friends.
This post may contain some affiliate links. When you click through and make a purchase we may receive some commission, at no extra cost to you.
Welcome to Asakusa, a vibrant district in Tokyo that seamlessly blends traditional Japanese culture with modern fun and activities. Asakusa is not only known for its iconic Senso-ji Temple, bustling Nakamise shopping Street, and a long standing theme park, but it also offers a wide range of excellent hotels for travelers to enjoy. There are plenty of options around the area, whether its high-rise class with impeccable views or humble class and comfort, there is definitely an option that will suit your trip. In this guide, we'll explore the top accommodations in Asakusa, each with its unique charm, exquisite interiors, and delectable culinary experiences. So, let's dive in and discover the perfect accommodations to enhance your stay in this captivating neighborhood.
1. The Gate Hotel Asakusa Kaminarimon by Hulic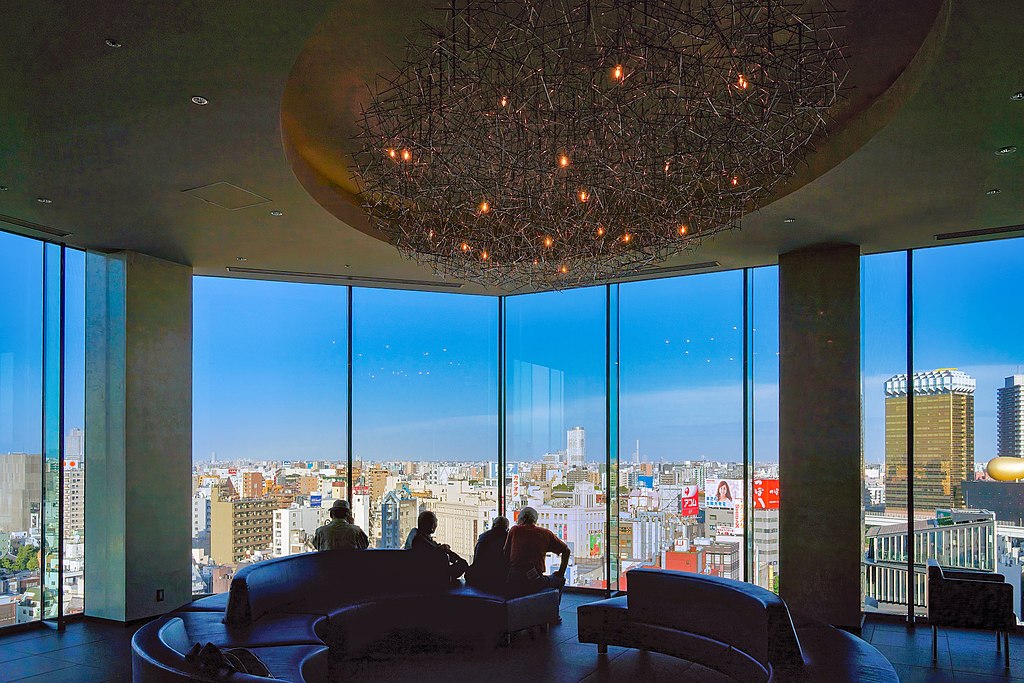 Step into a realm of contemporary elegance at The Gate Hotel Asakusa Kaminarimon by Hulic. This sophisticated and stylish hotel boasts sleek and minimalist design. The interiors effortlessly fuse modern aesthetics with traditional Japanese elements, creating a serene and welcoming atmosphere. Don't miss out on the terrace for an incredible view of the gem of Asakusa: Tokyo Skytree! Their on-site restaurant also features a nice view as well as some delicious meals!
Book here
2. Asakusa View Hotel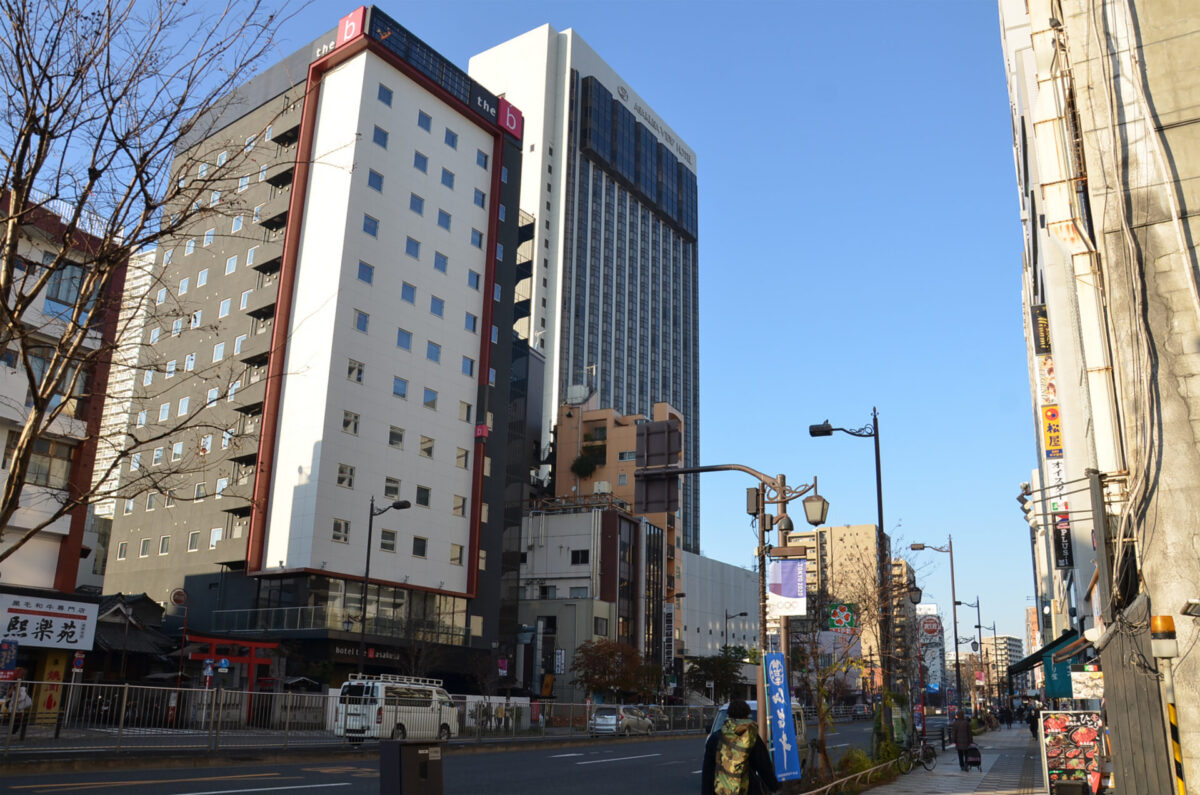 For a breathtaking panoramic view of Skytree and Sumida River, Asakusa View Hotel is the ideal choice. Its elegant rooms feature floor-to-ceiling windows, allowing guests to immerse themselves in the mesmerizing cityscape. If you're willing to wake up early, you can enjoy a view of the tower along with the sunrise; an incredible sight. This 4 star hotel also offers a large indoor pool to enjoy as well as some great dining options. If you're looking to enjoy some incredible views of Skytree, this is your chance.
Book here
3. Hotel Gracery Asakusa
Experience the allure of old Edo at Hotel Gracery Asakusa, where traditional Japanese aesthetics meet contemporary comforts. In fact, the Edo museum isnt so far away! The rooms are elegantly designed, with touches of traditional motifs and modern amenities. Indulge in the hotel's sumptuous cuisine, featuring a variety of Japanese and Western dishes. In close proximity to the Sumida river, this is a great place to stay for a pleasant view and easy access to a relaxing riverside stroll. Speaking of Sumida River, consider staying in the summer to enjoy the fireworks!
Book here
4. Minn Asakusa
Minn Asakusa offers spacious rooms with a standard, not over-the-top style with a classy level of quality. This aparthotel (apartment building with hotel functionality) is a great way to enjoy optimal room comfort. Not to mention, you'll have the option to cook with their fully-loaded kitchen if you'd rather have a night in. If you're looking for some Japanese style vibes, you're in luck as some of the rooms have Tatami mats. Situated in a great location with good access to Asakusa, this is a wonderful way to enjoy the area.
Book here
5. Mimaru Tokyo Asakusa Station
Another option comparable to the Minn Asakusa, Mimaru Tokyo Asakusa Station offers spacious and fully-equipped apartment-style accommodations. The interiors are tastefully decorated, combining modern design with traditional Japanese elements. Enjoy the convenience of a kitchenette in your room, allowing you to prepare your own meals giving you a reason to check out nearby markets, or even Kappabashi, the kitchen street. Comfort and class are definitely the narratives here so you can relax with confidence!
Book here
6. Asakusa Kokono Club Hotel
Immerse yourself in a tranquil oasis at Asakusa Kokono Club Hotel. This contemporary hotel showcases a blend of Japanese and Nordic design, featuring natural materials and calming color palettes and innovative interior style. If you're looking to stay somewhere that is pleasing to look at and feels quite unique, then this choice might be at the top of your list. The hotel's on-site restaurant serves exquisite Japanese or European cuisine, meticulously prepared using seasonal ingredients. Some rooms boast a nice view of Skytree, so your Asakusa experience can be everything you're hoping for.
Book here
7. Richmond Hotel Premier Asakusa International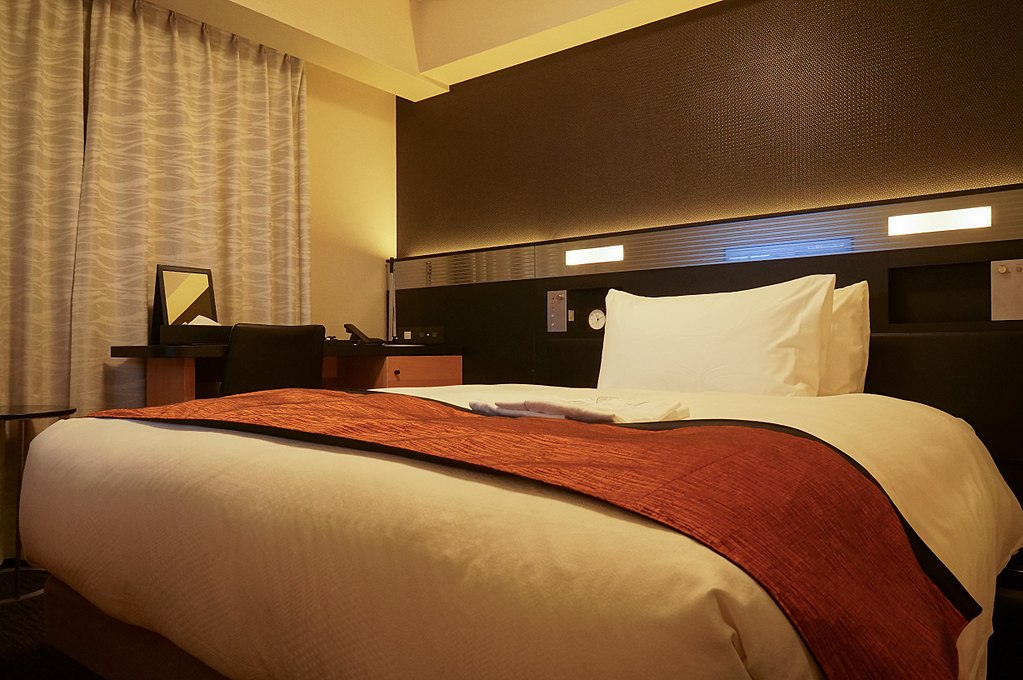 Modern sophistication awaits you at Richmond Hotel Premier Asakusa International. Despite its humble price range, the rooms are tastefully appointed with contemporary decor and luxurious amenities. Indulge in the hotel's well-rounded buffet breakfast, offering a wide range of Japanese and Western dishes. As with some other options, the Richmond has some wonderful views of Skytree, so be sure to check when booking!
Book here
8. Henn na Hotel Tokyo Asakusa Tawaramachi
Step into the future of hospitality at Henn na Hotel Tokyo Asakusa Tawaramachi, where robots seamlessly assist guests with their needs. This high-tech hotel features sleek and minimalist rooms, adorned with futuristic elements. The hotel's two on-site restaurants offer a selection of Japanese, Indian and European food. Be sure to check out L.E.A.F. for cocktail hour! If you're looking for a unique accommodation experience that captures the essence of Japan's robot-implemented culture, then this is a great choice for you.
Book here
9. The Kanzashi Tokyo Asakusa
Get cozy and relax in style for a great price at The Kanzashi Tokyo Asakusa. With humble yet elegantly appointed rooms, you'll surely feel at peace here. With great access to all of Asakusa's fun activities, this option is in a great location. The rooftop terrace is an exceptional addition that takes advantage of the location offering its guests some immaculate views of the city. Be sure to enjoy the American breakfast provided by their on-site restaurant.
Book here
10. Onyado Nono Asakusa Natural Hot Spring
Unwind in the soothing embrace of natural hot springs at Onyado Nono Asakusa Natural Hot Spring. Most of our options so far have been quite contemporary and modern but if you're looking for something a little more culturally inspired, this is a great option for you. This Ryokan-style hotel offers cozy rooms with Tatami flooring and futon beds. Immerse yourself in the therapeutic waters of their communal baths and let your worries melt away. The hotel offers a nice breakfast for its guests, as well as a unique service: free noodles at night! What could be better than free noodles, right?
Book here
Japan Wonder Travel Tours in Tokyo
Japan Wonder Travel is a travel agency that offers guided tours throughout Japan.
From private walking tours to delicious Food and Drink tours, we can help organize the best tours just for you! If you want to explore Japan and learn more about the history and backstories of each area you are traveling in, our knowledgeable and friendly guides will happily take you to the best spots!
In addition, we can provide you with any assistance you may need for your upcoming trip to Japan, so please feel free to contact us if you have any questions or need some help!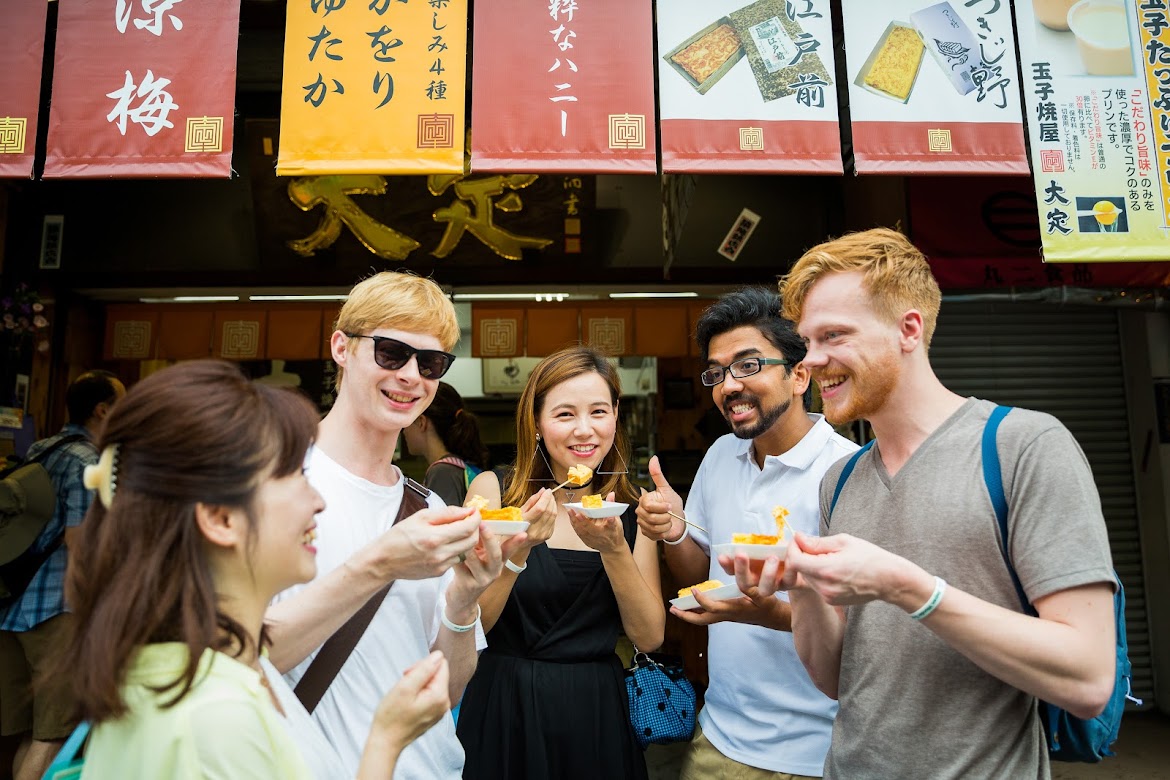 ▶Tokyo 1–Day Highlights Private Walking Tour (8 Hours)
There's no better way to explore an area than taking a tour with a knowledgeable local guide. You will have the chance to learn about the history and interesting background stories of Tokyo, as well as discover some hidden gems which can be hard to do without a guide.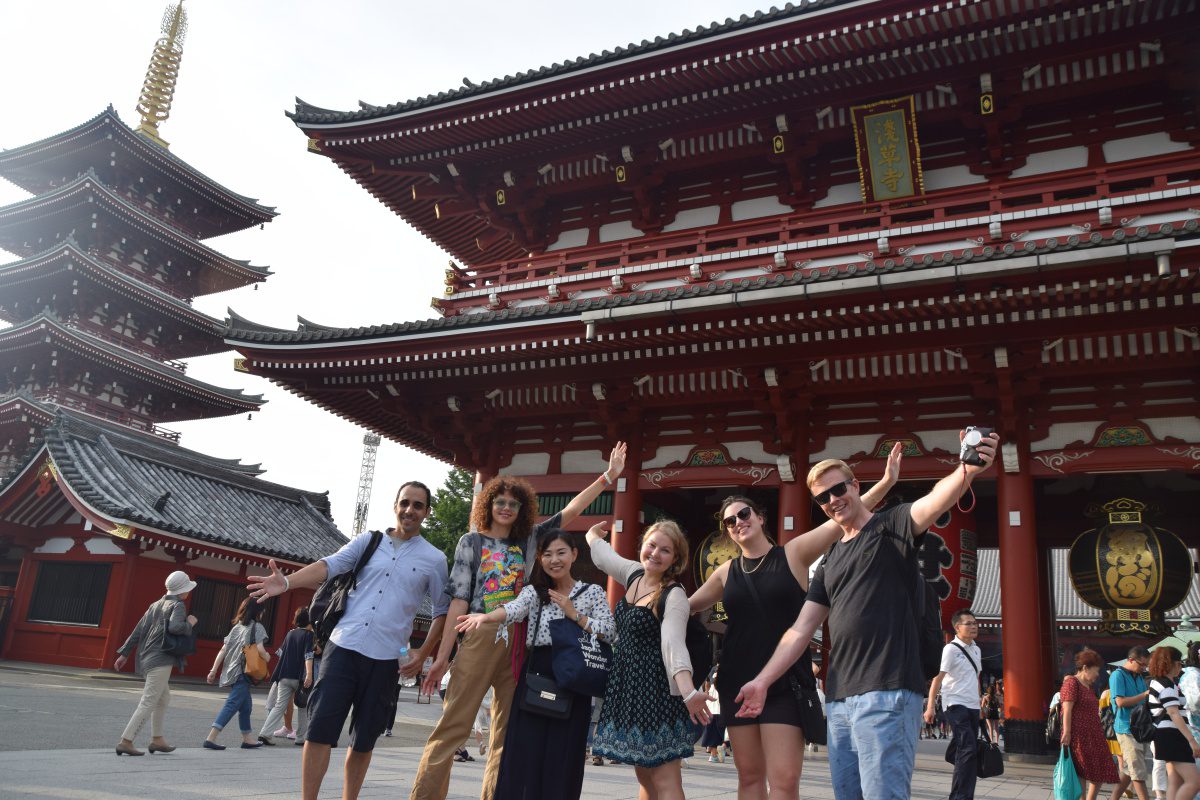 ▶Shinjuku Bar Hopping Tour: Experience Tokyo's Nightlife in Izakaya
Check out the best spots in Shinjuku while bar hopping through the lively and vibrant area. Try some delicious local food and drink as you explore the narrow yet photogenic alleys that the town has to offer. Experience Japanese izakaya culture and drink in Shinjuku like the locals!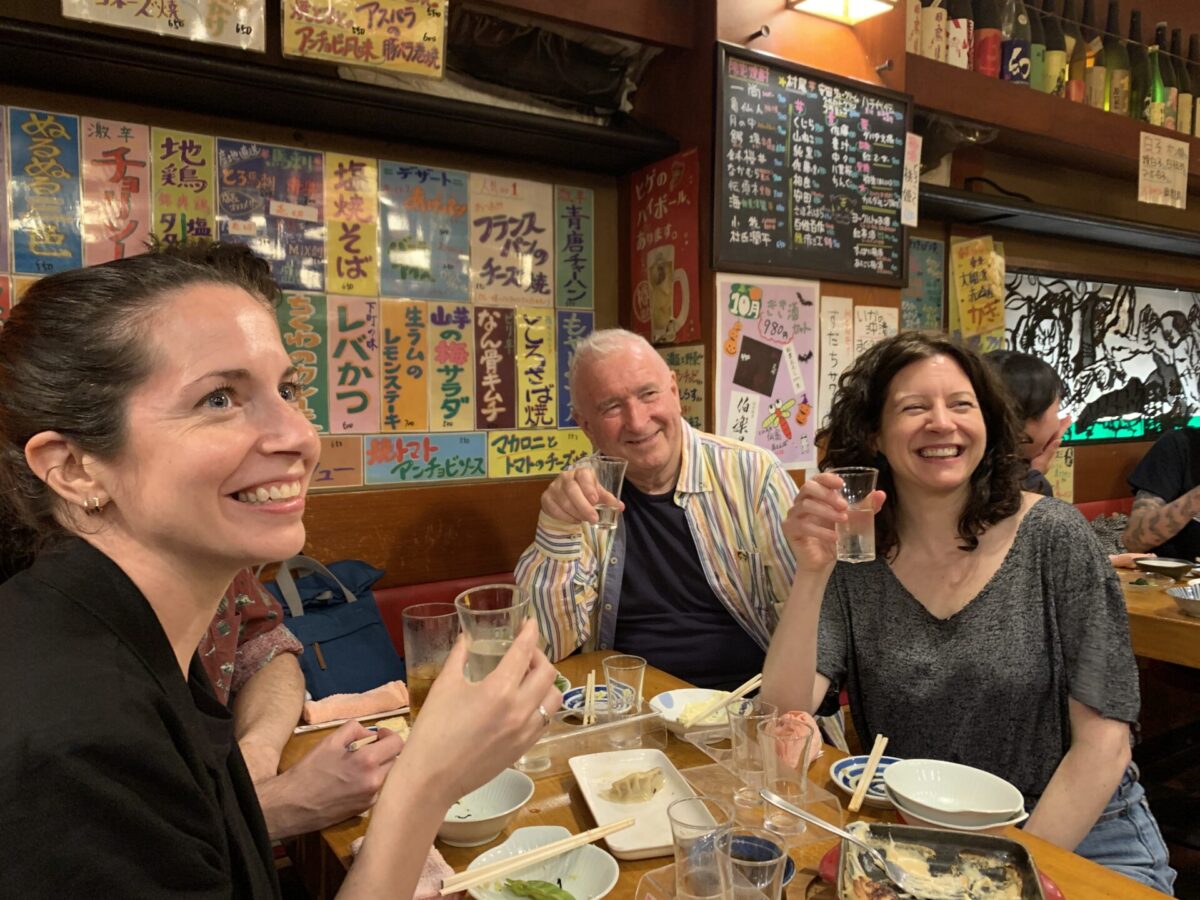 Find the Other Tours
▶Tour Packages
If you want to make travel easier, we suggest you look into tour packages.There are a wide range of tour packages out there to suit the accomodate for each traveler needs. Click the button below to find the best tour package from various Tour Operators!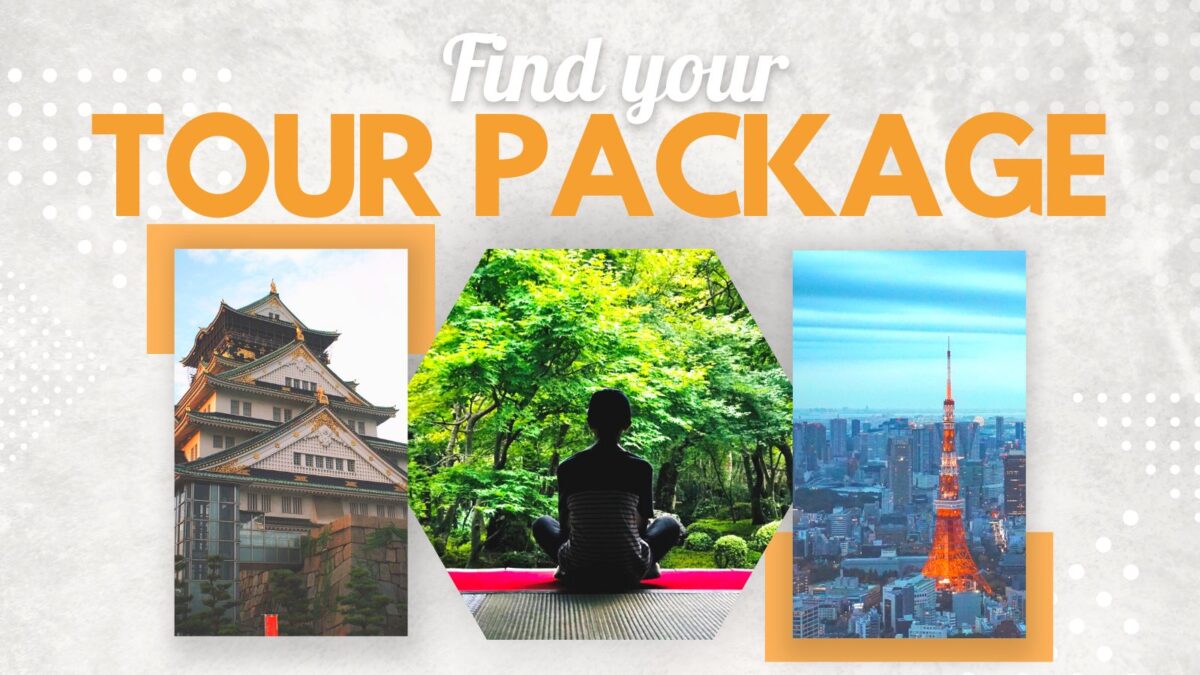 Follow us on Instagram, Facebook, Twitter, and TikTok for more travel inspiration. Or tag us to get featured!
Happy traveling!
Stay informed of the best travel tips to Japan, the most exciting things to do and see, and the top experiences to have with the Japan Wonder Travel Newsletter. Once every two weeks we will introduce you to our latest content.
Other Articles you may Find Interesting