Christmas is definitely the best season to enjoy the beautiful illuminations that light up streets and cities brightly. In Japan, Christmas is not so much about religion, but more about the whole festive holiday vibe, and of course to be spent with your significant other. Christmas in Japan is celebrated differently, but the events and the illuminations are just as popular as everywhere else. The Christmas events and festive illuminations have become notoriously and increasingly popular in recent years in Japan, and every year the events grow and become more spectacular. Typically the decorations start to light up the streets in early November and last until after Christmas, with some even lasting until February! These Christmas illuminations are a perfect date spot in Tokyo and you'll spot endless young couples strolling down the romantic streets hand in hand.
Tokyo boasts a great number of popular illumination spots that draw not only locals but also travelers admiring the festive decorations and wishing to take pictures and make memories that will last a lifetime. Each spot has its own unique and impressive ways of wooing visitors, with different illumination themes every year. As most of the popular Christmas illumination sites in Tokyo are conveniently located in the central areas or close to major stations, it is always fun to explore more than one. In this article, we will take you on a short tour of the best Christmas illumination spots in Tokyo in 2023-2024!
*We will update the information for 2024-2025 when it's officially announced
1. Tokyo Midtown Christmas Illumination
Tokyo Midtown is a large complex, located in the vibrant Roppongi district. It comprises of hotels, offices, fancy restaurants, a range of shops, as well as city parks. The Midtown Tower is an iconic landmark and one of the tallest buildings in Tokyo at the height of 248.1 meters.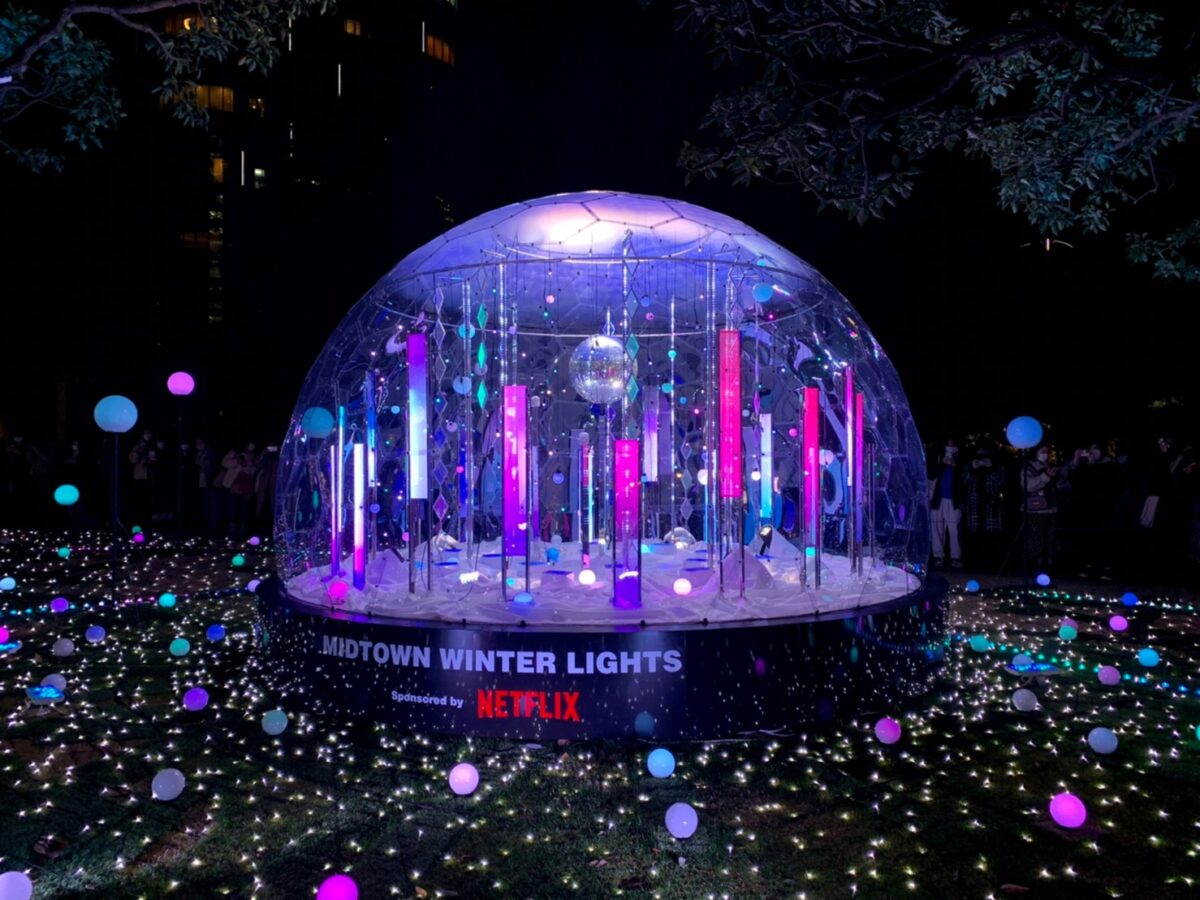 Every year there is a different theme and this year's Christmas Story Light's concept is "Meets Christmas". There will be a dome on an outdoor theater with 300 lights. This "vision dome" is a big snow globe that is 3 meters in height and 4.5 meters in diameter, representing beautiful moments of four seasons with colorful lights. This year, for a limited time from November 17 to December 14, there will be a special performance that involves bubbles. You don't want to miss this show where smoke slowly pours out of the bubbles! The goes on once every 6 minutes.
This year there will also be a "PARTY POPPER TREE," a Christmas tree that resembles a Christmas party cracker, in the Midtown Garden. The tree will be decorated with colorful ornaments and lit up, creating a wonderful Christmas atmosphere. In addition, when you hold your hand over the Santa Tree nearby, a string of crackers will be pulled, and the colorful ornaments and lights of the Christmas tree will start to crackle and shine.

Santa Tree is another highlight which refers to a unique Christmas tree made of little Santa ornaments, which is displayed on the first floor of Galleria. From the first day of December, the first gift box which counts the days until Christmas on the tree starts to color, and on Christmas Day, a colorful Christmas tree full of gift boxes will be completed! Take a walk on the Promenade of Lights, golden lights on the trees will shine in the streets in the evening.
Closest station: Roppongi Station
Price: free
Dates: November 16th (Thu) – December 25th (Mon) 2023
2. HIBIYA Magic Time Illumination
At the HIBIYA Magic Time Illumination, beautiful colorful lights create a magical scenery. This year the illuminations will be in three different areas and the theme is twinkling stars in the night sky. This year they will light up the streets with blue and green lights that resemble the aurora. The illuminations here take place from 5pm to 11pm everyday.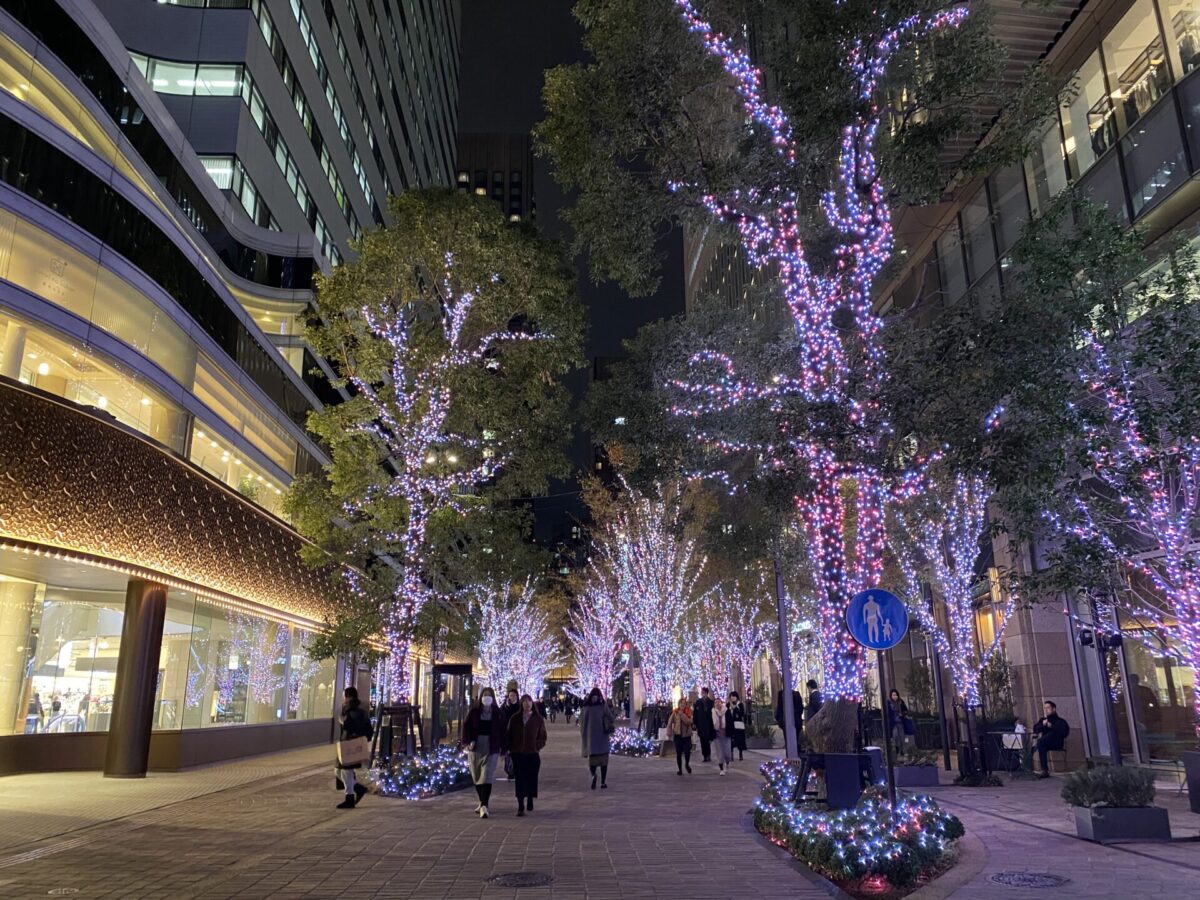 Closest station: Hibiya Station
Price: free
Dates: November 16th (Thu), 2023 – February 14th (Wed), 2024
3. Marunouchi Illumination
Marunouchi is the area around Tokyo Station and the Tokyo Imperial Palace and for years it has been one of the most famous areas to go to see Christmas illuminations. It has hosted a luxurious Christmas illumination event for the past 18 years, attracting a large number of visitors each year. Marunouchi Nakadori Street is the main street of the area which stretches about 1.2 km with a range of boutique shops and beautiful trees along it. During the winter season, about 220 trees are decorated with an impressive 1 million white and gold LEDs, creating a classy and elegant atmosphere that perfectly matches the surroundings. In addition, switch-on ceremonies for the local Christmas tree and other special events are held every year.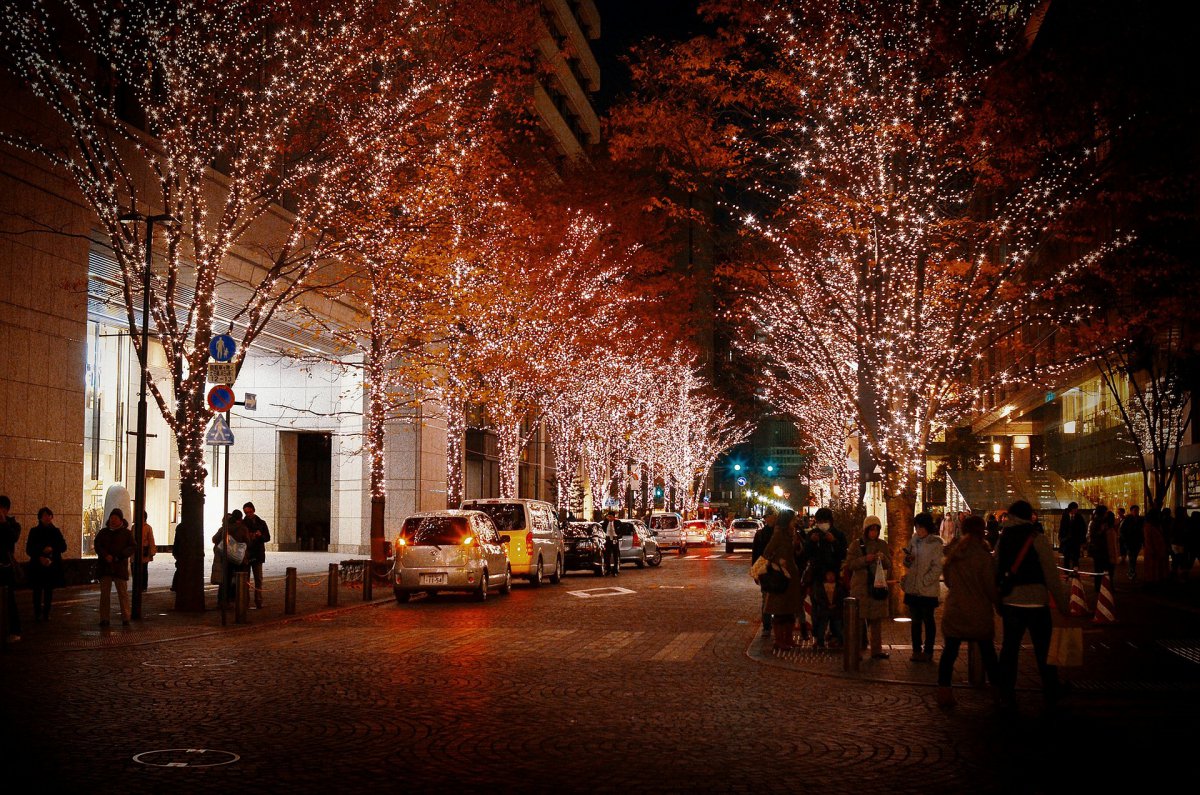 Closest station: Tokyo Station
Price: free
Dates: November 16th (Thu) – February 19th (Mon), 2024
4. Roppongi Hills Christmas
Every year Roppongi Hills hosts one of the most popular winter events in Tokyo, the Roppongi Hills Christmas. During the Christmas season, the busy business districts full of skyscrapers and tall buildings spectacularly transform into the perfect illumination spot, and is famous among photographers aiming to capture the perfect Christmas shot. Keyakizaka Street is the main street stretching about 400 meters featuring rows of illuminated trees standing along both sides of the street. The blue and white lights decorating the trees form the perfect backdrop for the bright white and red Tokyo Tower!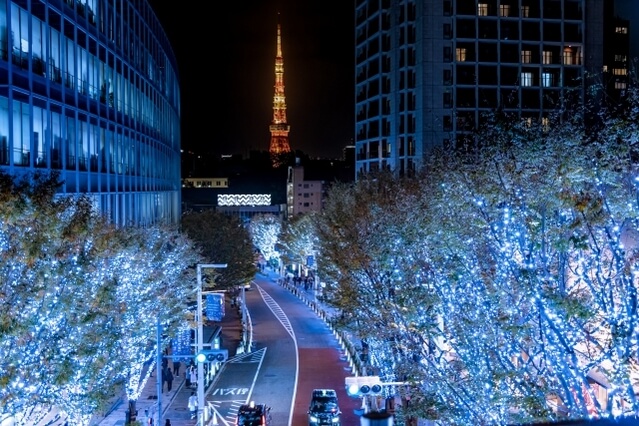 In addition, one of Tokyo's largest and oldest Christmas Markets is held here. There are festive Christmas decorations, seasonal food, drinks sold at stalls, and of course popular live Christmas music. Roppongi Hills Christmas is one of the best places in Tokyo if you're looking to experience a western-style Christmas.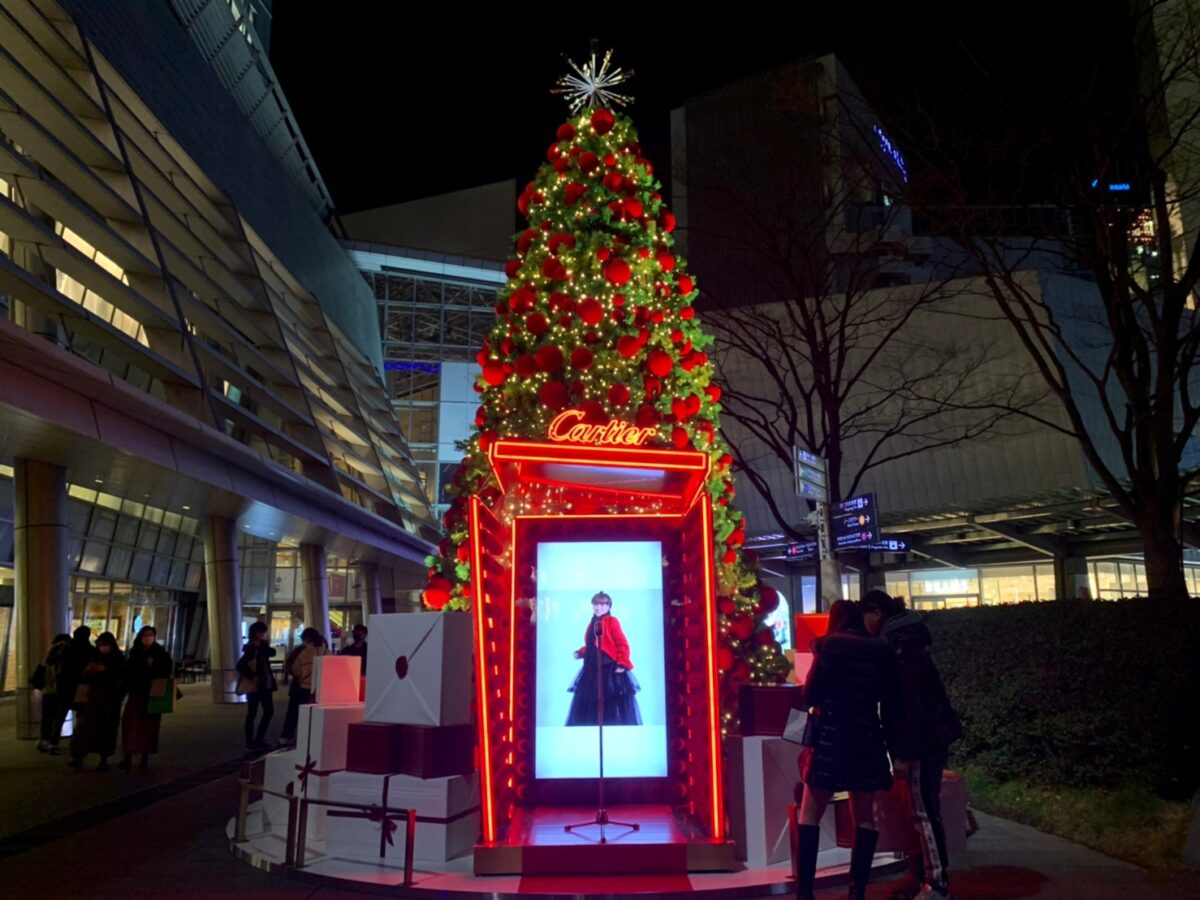 Closest station: Roppongi Station
Price: free
Dates: November 6th (Mon) – December 25th (Mon), 2023 5pm – 11pm
5. Oi Racecourse Tokyo Mega Illumination
During the winter season and on the horse racing off days, Tokyo Mega Illumination is held at the Oi Racecourse. The highlight of the illumination is the water fountain show with music and colorful lights, getting your photo taken with miniature horses and ponies dressed in Christmas costumes, a mysterious big tree with lights, and the Aurora Forest in which a beautiful aurora appears in the sky!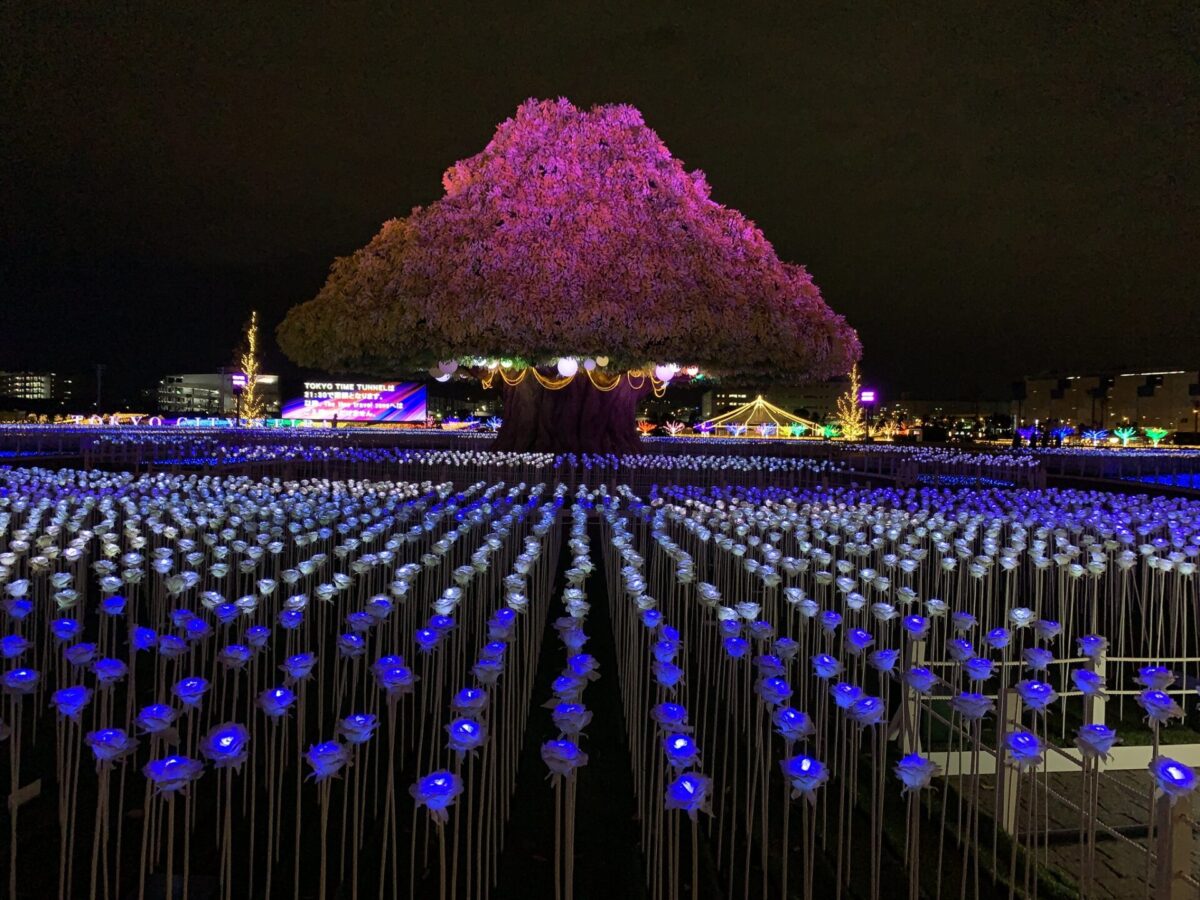 Closest station: Oi Keibajo-mae Station
Price: 800 yen (adult) *pre-order is required: get tickets
Dates: November 11th (Sat), 2023 – January 8th (Mon), 2024
6. Jewellumination at Yomiuriland
Yomiuriland is a huge amusement park that opened in 1964 in western Tokyo. It boasts a range of attractions including exciting rides, swimming pools in summer, and much much more. In winter the entire park is covered in a sparkling light display of 6.5 million LED lights, making it the largest Christmas event in the metropolitan area. YomiuriLand Jewellumination 2023 starts on October 19, with the theme "Light is Happiness." During the event, the park is divided into 10 areas and shows different displays directed by Motoko Ishii, a world-famous Japanese lighting designer. The fountain show that is held every 15 min with more than 240 fountains is another highlight, creating a mystic world with colorful lights!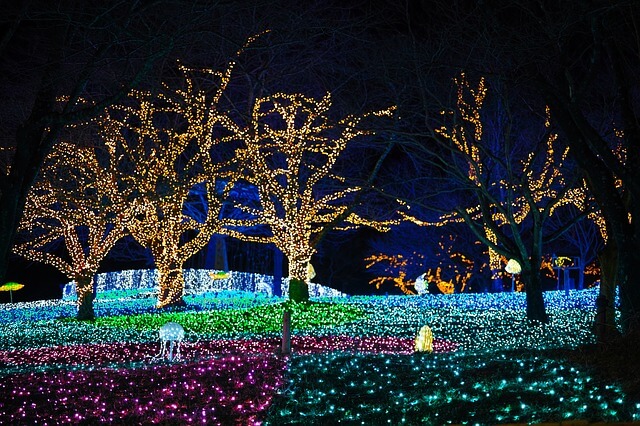 Closest station: Keiō-yomiuri-land Station
Price: ¥1,500 (adult)
Dates: October 19th (Thu), 2023 – April 7th (Sun), 2023 4pm-8:30pm
Tickets: Purchase here
7. Yebisu Garden Place Illumination
Yebisu Garden Place is a rapidly growing commercial complex consisting of urban office buildings and a range of facilities, including restaurants, shops, residences, and art museums. It is conveniently located near Ebisu Station, which makes it a perfect spot for everyone to enjoy shopping after work or just relax.
During the Christmas season, Yebisu Garden Place attracts visitors with a range of light displays and decorations featuring endless LEDs! One of the highlights is the 5m x 3m Baccarat crystal chandelier, which is said to be one of the biggest Chandaria in the world! The chandelier is beautifully decorated with over 8,000 crystals and 250 lights. There is also a giant Christmas tree that is adorned with more than 10,000 LEDs at the center square. Don't forget to check the Christmas market with some lovely stalls and small shops selling limited seasonal products and drinks!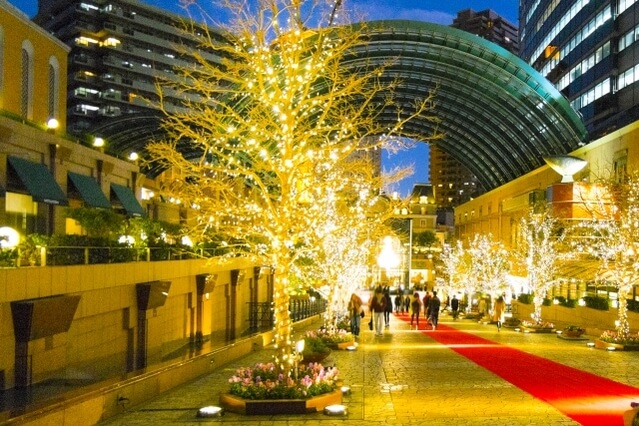 Closest station: Ebisu Station
Price: free
Dates: November 11th (Sat), 2023 – January 8th (Mon), 2024 10am – 11pm
8. Shinjuku Park Tower Winter Illumination
At the fountain area of Shinjuku Park Tower, 60,000 LED lights illuminate the evening and they even put out a real fir tree in December on the first floor of the atrium. Enjoy the beautiful golden reflection on the fountain in a quiet area that is away from the crowds. There's also another illumination spot located nearby called Twinkle Park illumination that is held at Shinjuku Central Park.

Closest station: Tochomae Station, Shinjuku Station, Hatsudai Station
Price: free
Dates: November 17th (Fr), 2023 – February 14th (Wed), 2024 4:30pm – 12am
9. Tokyo Skytree ® Magical Christmas
One of the iconic structures in Tokyo, Tokyo Skytree, turns into a big Christmas tree or a big candle during the holiday season and the whole area is covered with shining Christmas lights. There's also an ice skating rink that opened up for the first time in years, with a view of Skytree and the surrounding Christmas lights.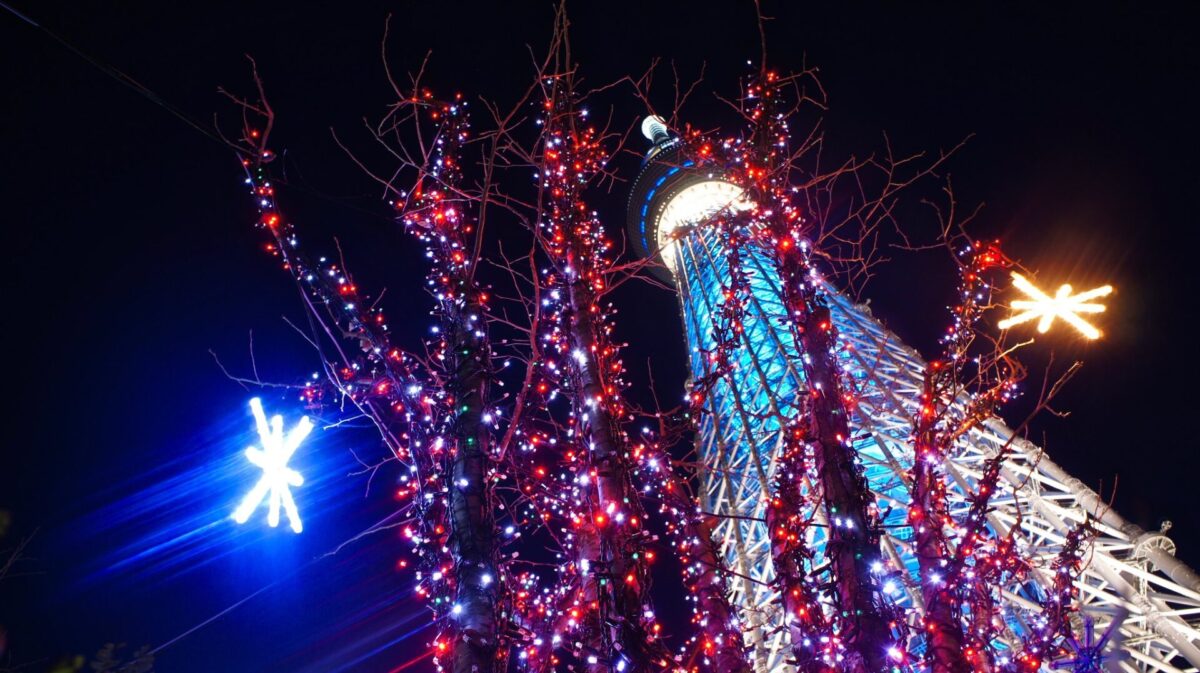 Closest station: Tokyo Skytree Station, Oshiage Station
Price: free
Dates: November 9th (Thu) – December 25th (Mon), 2023 5:30pm -12am
10. Omotesando Illumination
Omotesando is located near Harajuku, and it's known as a fancy shopping area. On the main street of Omotesando, a 1 km long line of zelkova trees light up with golden lights during the Christmas season. At the popular shopping mall Omotesando Hills, you can see a beautiful Christmas tree decorated with a hundred wind instruments.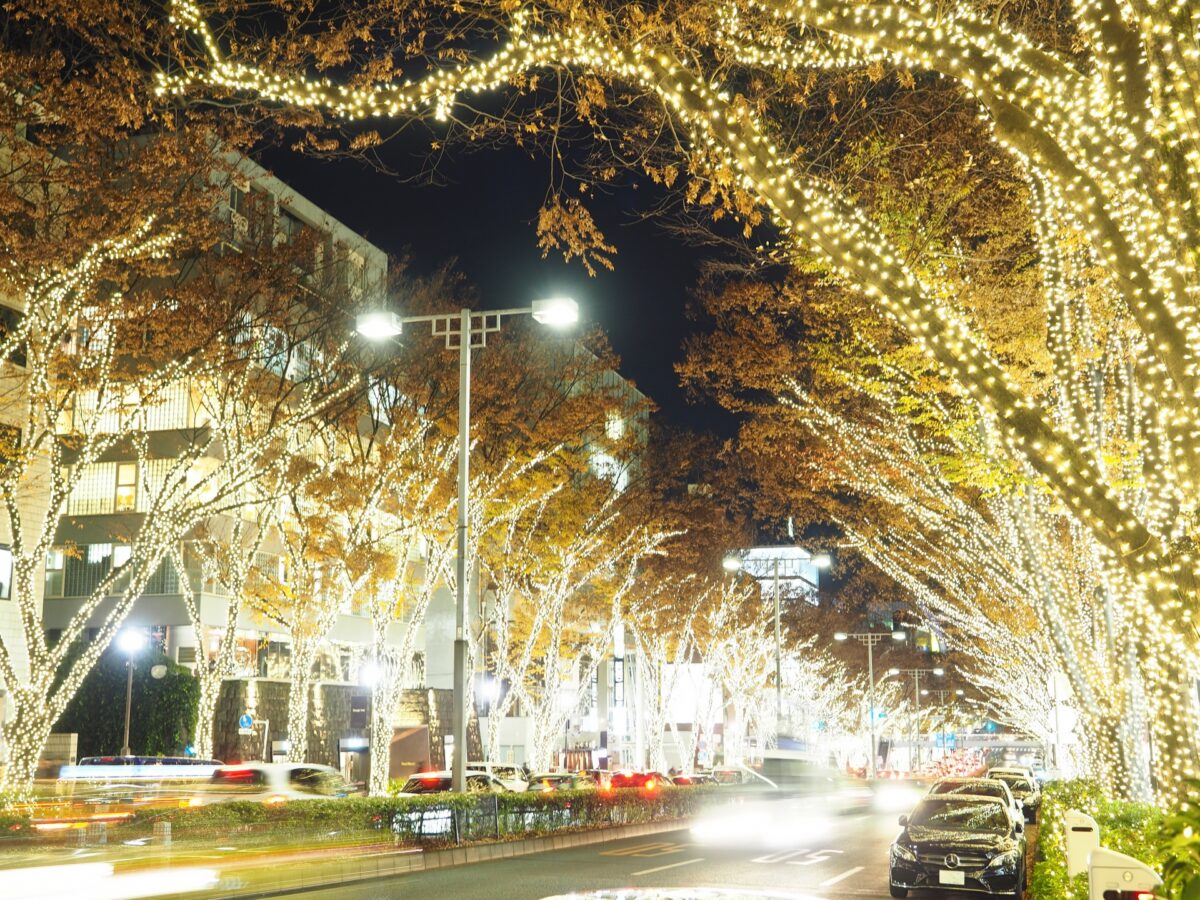 Closest station: Omotesando Station
Price: free
Dates: December 1st (Fr) – January 5th (Fr), 2024 Sunset – 10pm
11. Tokyo Dome City Illumination
Setting this year's theme as a photogenic illumination, there are some fun Christmas photo spots around Tokyo Dome City. For their Christmas decorations, they reuse wood scraps and driftwood, and you can find squirrels hidden at each photo spot. Squirrels play an important role in growing new trees in the forest by hiding their nuts in the ground, and they hint at this message behind the cute squirrels' ornaments by turning wasted wood into beautiful Christmas decorations! Also, don't forget to check out the big colorful Christmas tree at Crystal Avenue, it changes its color from gold to white, red, blue, purple, and orange. From 5pm until 12am, they play music along with a special light performance that takes place every 30 minutes at the tree.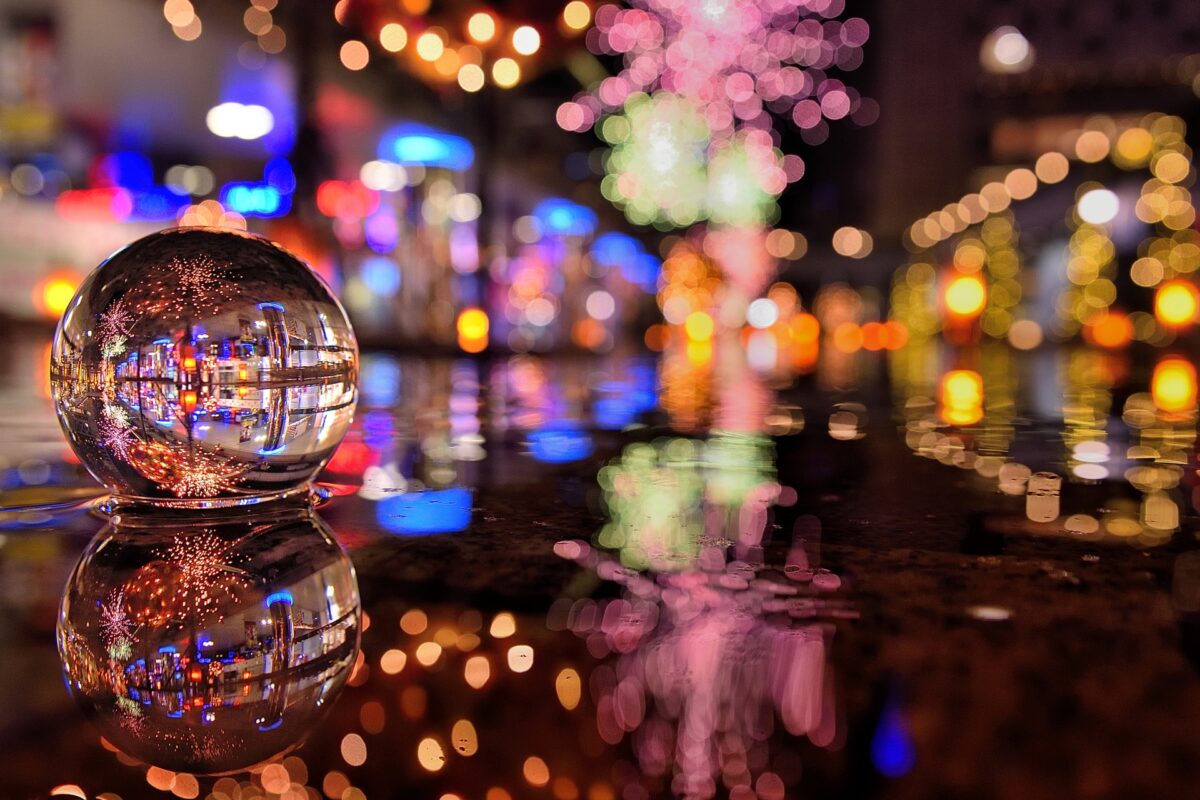 Closest stations: Suidobashi Station and Korakuen Station
Price: free
Dates: November 21th (Tue), 2023 – February 29th (Thu), 2024 5pm-12am
12. Jewels in my heart
This year's illumination at Shinjuku Southern Terrace features 170,000 rainbow-colored LED lights shining like jewels. The best photo spot is the promenade that installed the "Twinkly Light System" which censors the movement of people, setting off the changing of the lighting like they are dancing!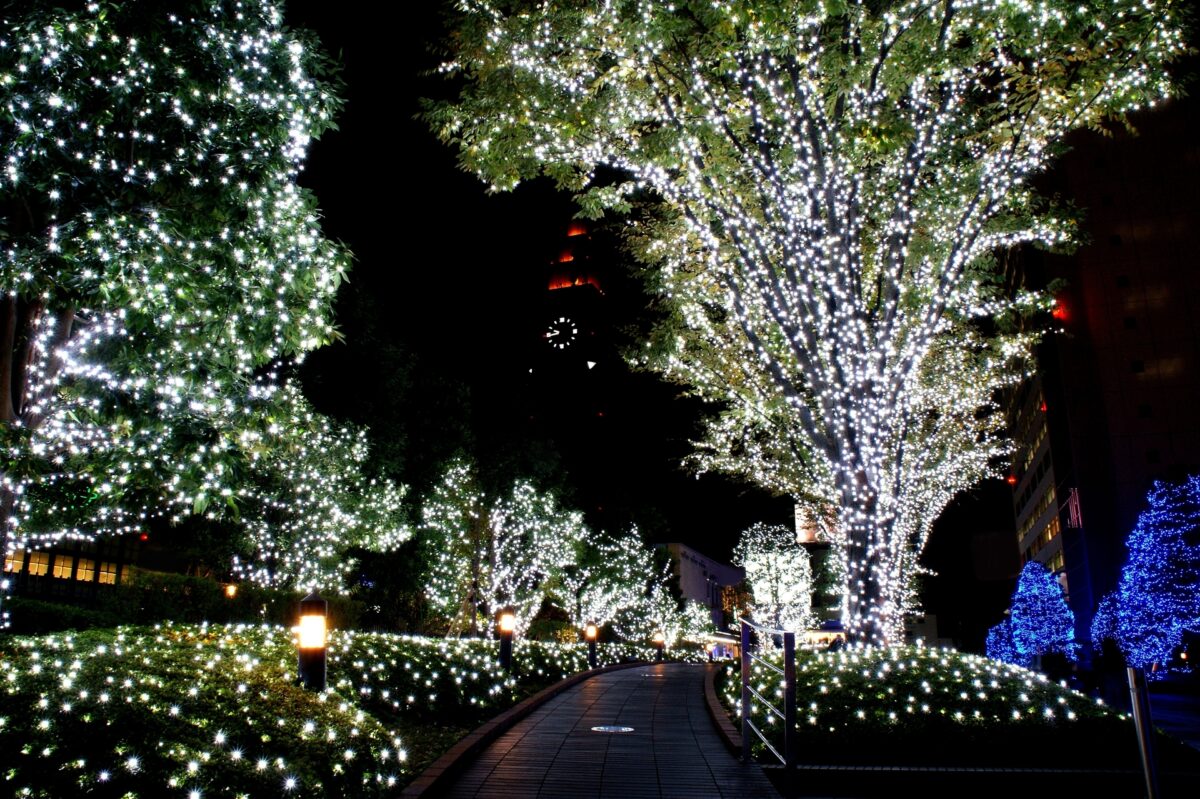 Closest station: Shinjuku Station
Price: free
Dates: November 17th (Fr) – February 14th (Wed) 5pm – 11pm
13. Meguro River Minna no Illumination
Each year the trees lining the Meguro River between Gotanda Station and Osaki Station are illuminated by 350,000 LED lights. The Meguro River is a popular spot for Cherry Blossom viewing in spring and the LED lights in winter resemble the beautiful cherry blossoms. The illuminated trees span a length of about 1 km on each side, so in total the festive lights can be enjoyed on a short walk of about 2 km. This area is famous for using sustainable sources for lighting, and they recycle waste oil from houses and restaurants in the neighborhood to power the lights.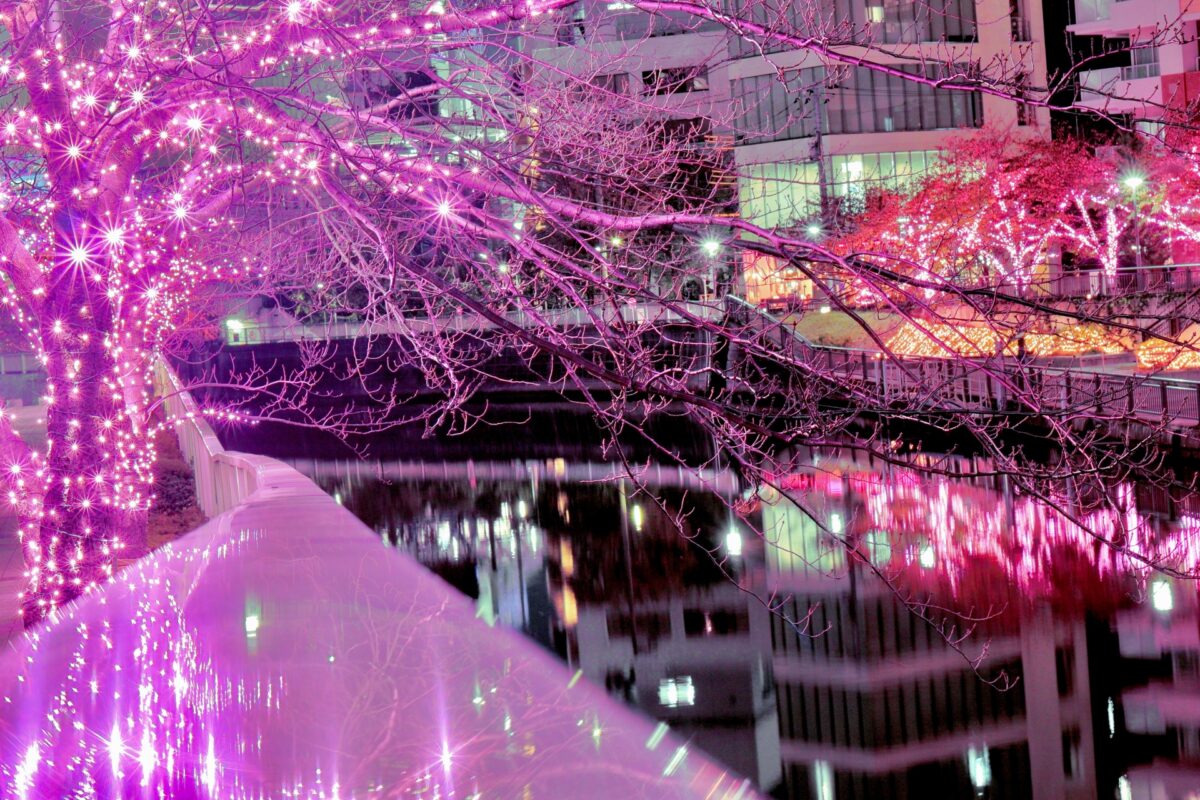 Closest station: Gotanda Station or Osaki Station
Price: free
Dates: November 10th (Fri), 2023 – January 8th (Mon), 2024 5pm-10pm
14. Decks Tokyo Beach
Odaiba is the man-made island situated in Tokyo Bay, and is known for its futuristic attractions and large range of entertaining spots and popular tourist attractions such as the Fuji TV Building and Aqua City Odaiba. It is also home to large parks and refreshing nature spots which offer a perfect environment for a relaxing stroll.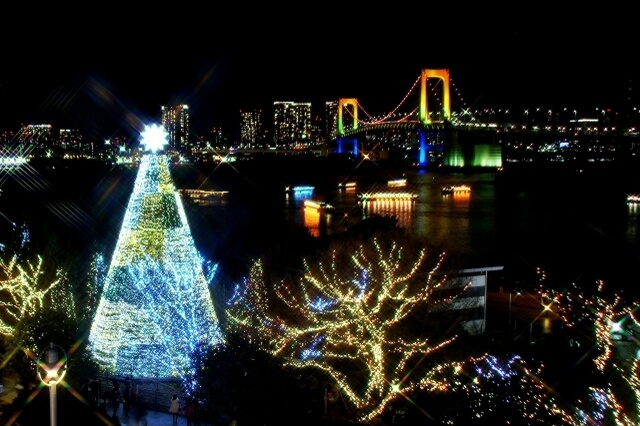 Decks Tokyo Beach is a huge shopping complex with wonderful shops, restaurants, and entertainment spots. All year round they have an extraordinary illumination called Yakei which lights up the whole area come night. The 20-meter tall Christmas tree Odaiba Memorial Tree is decorated with sparkly, colorful LEDs with the view of Tokyo Bay and the Rainbow Bridge in the background. In 2019, all the lights turned white during the Christmas season, which made it feel like a winter wonderland completely covered in snow!
Closest station: Tokyo Teleport Station
Price: free
Dates: All year round
15. Ginza Christmas Illuminations
Ginza is one of the best shopping districts in Tokyo, with a range of high-class shops and luxurious brands. It welcomes visitors with a sophisticated atmosphere, a completely different experience of Tokyo compared to other vibrant areas such as Shibuya and Harajuku.
Countless Christmas lights with bright colors bring a festive atmosphere to the area with all of the massive buildings and department stores.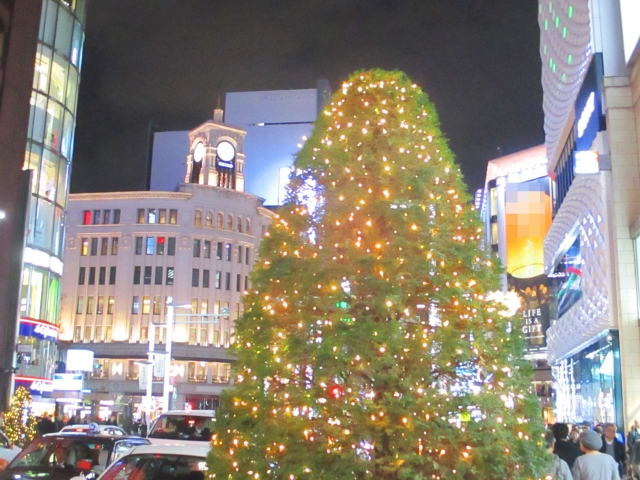 Ginza Six is one of the largest shopping complexes in Ginza, home to more than 240 brands and shops. This year during the Christmas season, from December 1st to 25th, the seasonal bar will be open and serving craft beer as well as other alcoholic and hot drinks. And the ice-skating rink will be open for use from December 1st to January 31st on the rooftop of the garden. This eco-friendly ice-skating rink is made of resin and it uses no electricity. Enjoy ice-skating surrounded by the enchanting Christmas lights.
Closest station: Ginza Station
Price: free
Dates: November 10th (Fri) – December 25th (Mon)
16. Shibuya Blue Cave
Originally an event that took place near Nakameguro, Blue Cave Shibuya is now one of Shibuya's highlights during the holiday season. As you walk through the natural arcade made up of trees brightly lit up with blue LEDs, it makes you feel like you are in a beautiful blue cave! Shibuya Blue Cave is one of the most popular Christmas illuminations in Tokyo that attracts more than 2 million visitors every year. The 800 meter long street between Yoyogi Park and Shibuya park is completely lined with 600,000 LEDs hung on the trees. The sole blue color of the displays is simple but extraordinarily impressive and stunning!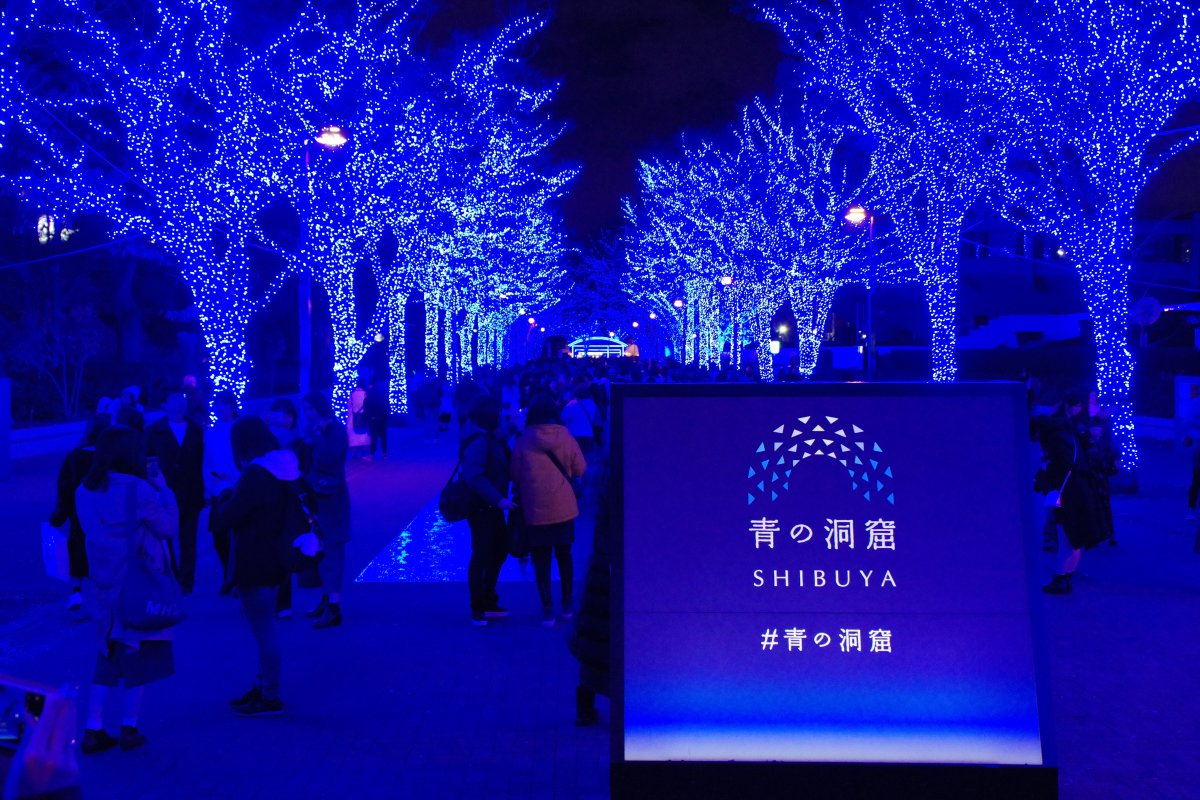 Closest station: Shibuya Station / Harajuku Station
Price: free
Dates: December 1st (Fr) – 25th (Mon), 2023 3pm-10pm
17. Caretta Shiodome
Caretta Shiodome is a huge shopping complex located within walking distance of Shinjuku station. It consists of more than 60 shops and some cultural facilities such as a theater and museum. From mid-November to mid-February, it continuously draws big crowds with its popular Christmas lights event. Every year, it features popular characters from Disney movies and fascinates visitors with exciting live performances of famous (Christmas) songs! Dive into this magical world sparkling with 250,000 LEDs and experience the impressive show!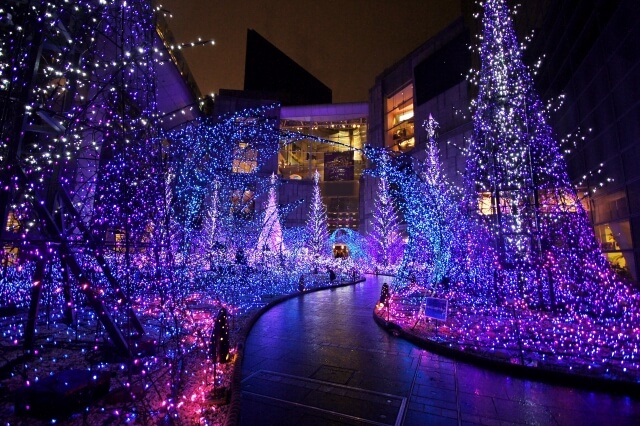 Closest station: Shimbashi Station
Price: free
Dates: Mid November 2023-mid February 2024
Recommended hotels with gorgeous Christmas Illuminations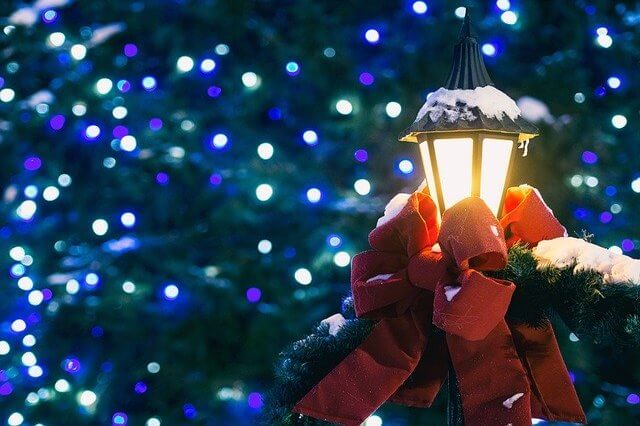 The Christmas period and the corresponding illumination events have become hugely popular in Tokyo, with new events popping up every year! The main areas of Tokyo are blanketed in romantic, decorative lighting displays. Popular (shopping) areas like Omotesando, Ginza, Nihonbashi, Shibuya, and Shinjuku will be covered in thousands of festive lights. Don't let the cold winter stop you from exploring Tokyo and miss the chance to enjoy the city with the beautiful lights! Visiting the Christmas markets and admiring the Christmas lights will put you in the festive end-of-the-year mood. The spectacular Christmas illuminations totally change the townscape and make for a fun night out.
Find out the top tours in Tokyo▼
Japan Wonder Travel Tours in Tokyo
Japan Wonder Travel is a travel agency that offers guided tours throughout Japan.
From private walking tours to delicious Food and Drink tours, we can help organize the best tours just for you! If you want to explore Japan and learn more about the history and backstories of each area you are traveling in, our knowledgeable and friendly guides will happily take you to the best spots!
In addition, we can provide you with any assistance you may need for your upcoming trip to Japan, so please feel free to contact us if you have any questions or need some help!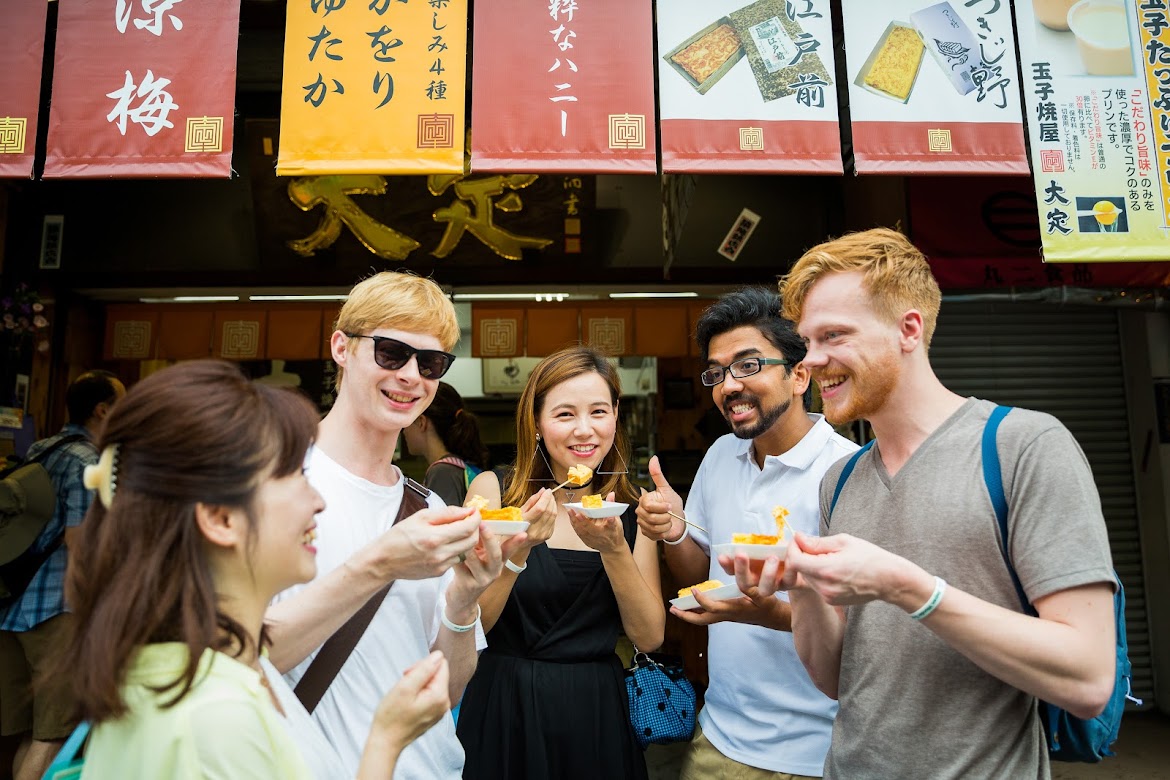 ▶Tokyo 1–Day Highlights Private Walking Tour (8 Hours)
There's no better way to explore an area than taking a tour with a knowledgeable local guide. You will have the chance to learn about the history and interesting background stories of Tokyo, as well as discover some hidden gems which can be hard to do without a guide.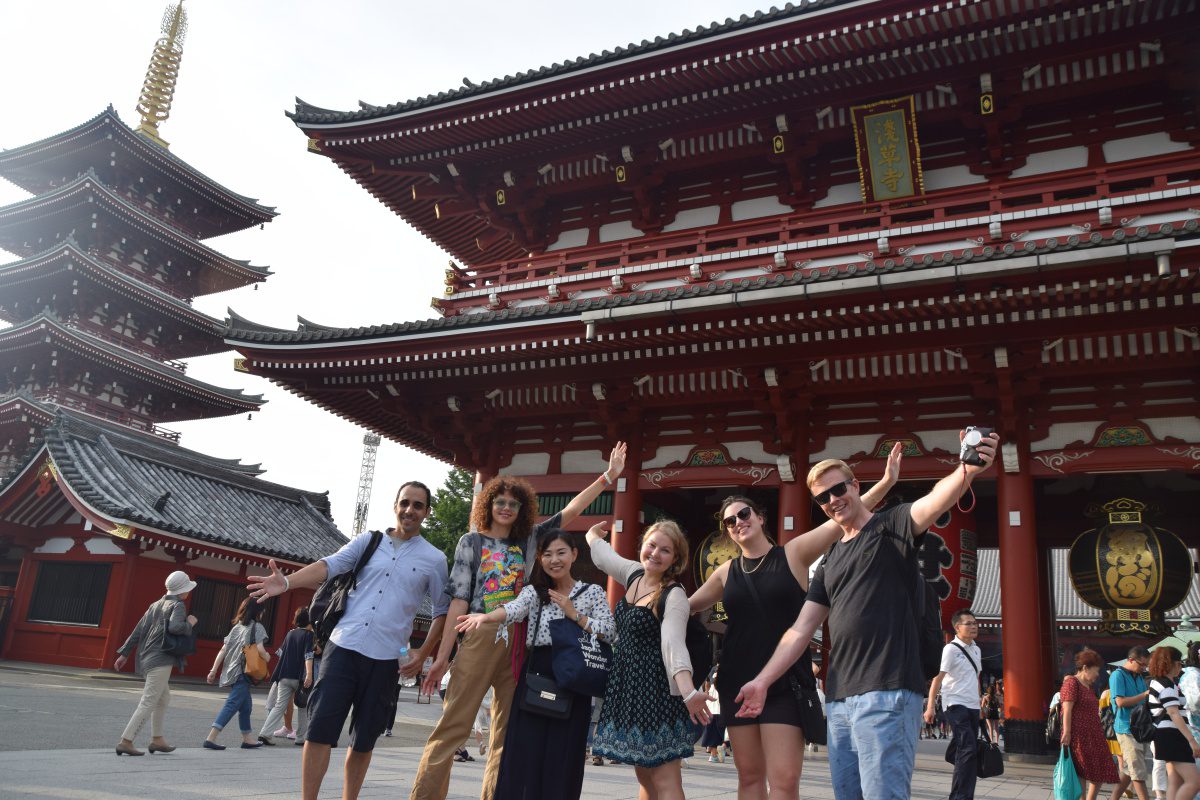 ▶Shinjuku Bar Hopping Tour: Experience Tokyo's Nightlife in Izakaya
Check out the best spots in Shinjuku while bar hopping through the lively and vibrant area. Try some delicious local food and drink as you explore the narrow yet photogenic alleys that the town has to offer. Experience Japanese izakaya culture and drink in Shinjuku like the locals!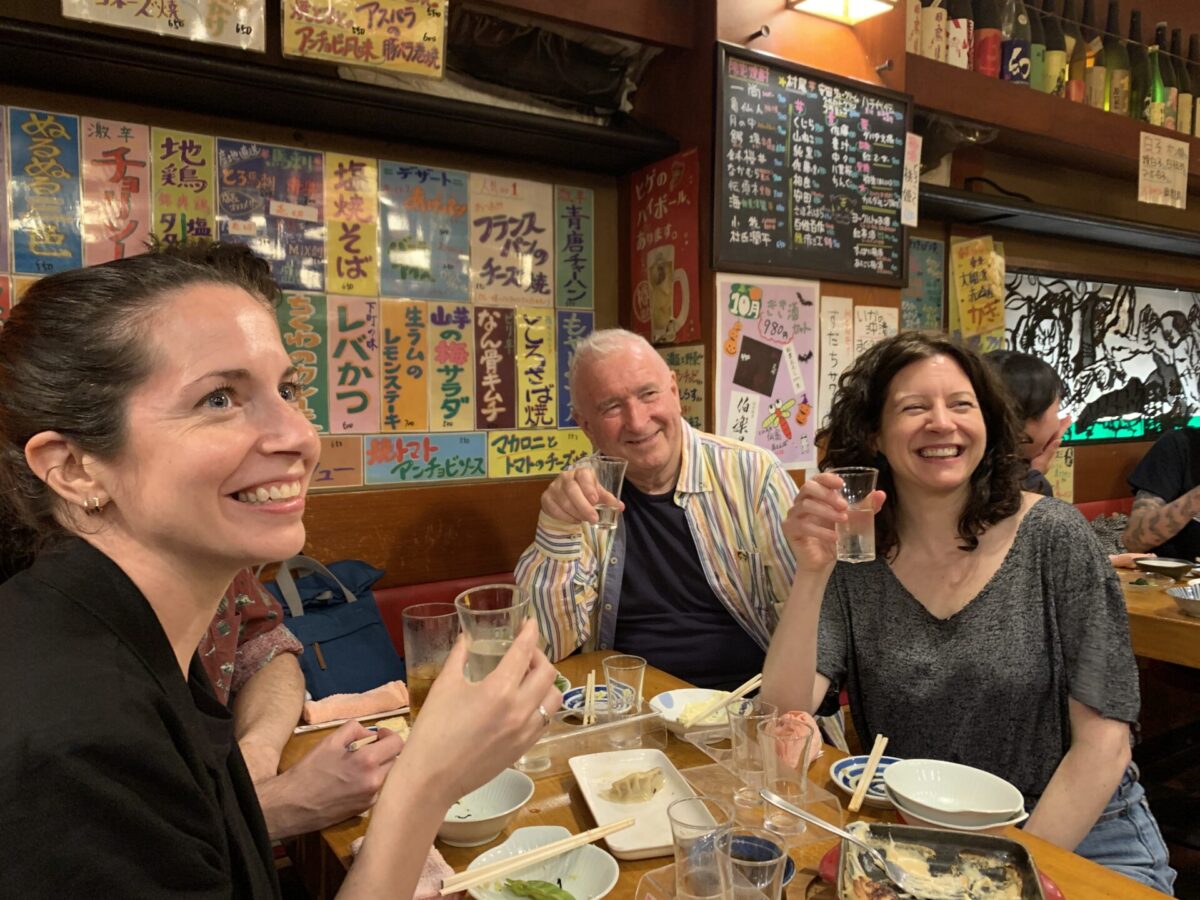 Find the Other Tours
▶Tour Packages
If you want to make travel easier, we suggest you look into tour packages.There are a wide range of tour packages out there to suit the accomodate for each traveler needs. Click the button below to find the best tour package from various Tour Operators!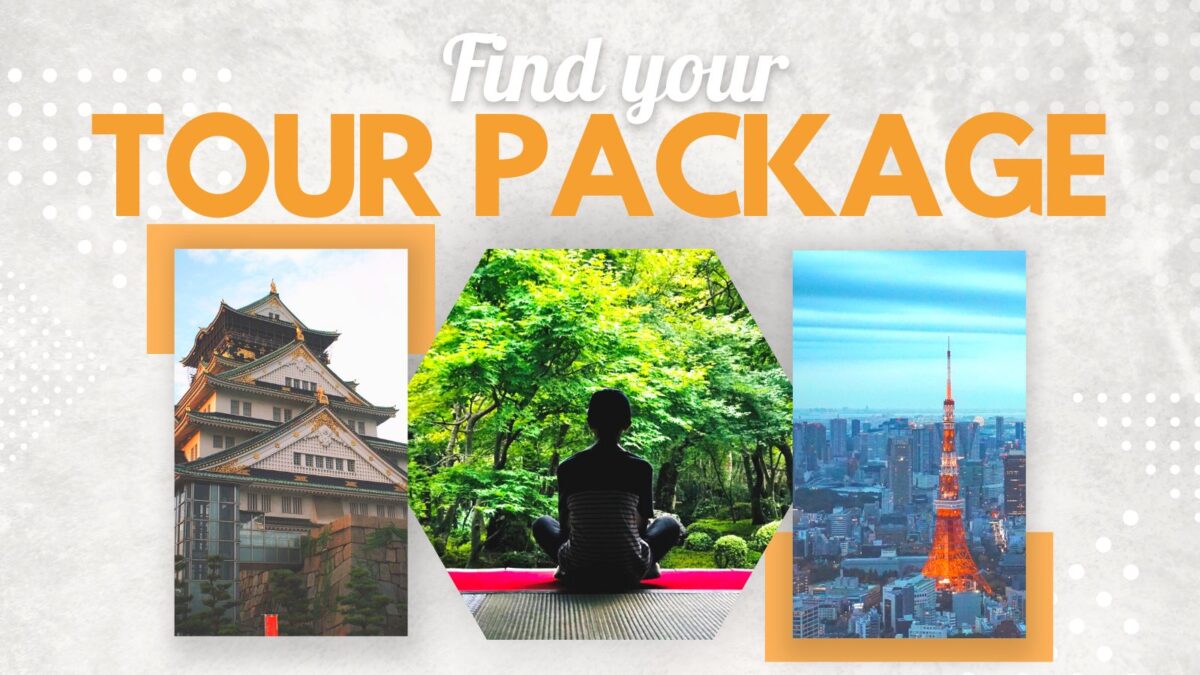 Follow us on Instagram or Facebook for more travel inspiration. Or tag us to get featured!
Happy traveling!
Articles you may also like
---
This post may contain some affiliate links. When you click through and make a purchase we may receive some commission, at no extra costs to you.