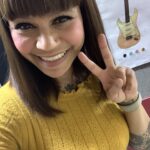 Writer's Profile
Misty Fujii is a Canadian who moved to Osaka, Japan in 2019 and married her Japanese sweetheart. In 2022 they had a baby and moved to Fukui for the clean country air. She is a DJ who teaches English part time and writes in order to share Japan with the world. She gets excited about collecting vintage vinyl records, food of all countries, travelling and renovating her traditional Japanese house.
This post may contain some affiliate links. When you click through and make a purchase we may receive some commission, at no extra cost to you.
Ahhhh, to eat, drink and be merry in the open air is a special pleasure! It's no secret that Tokyo locals love going to an izakaya, and when the nice weather hits, an izakaya with an open terrace is ideal. Whether it's the sunset, the city lights, or the greenery around you, dining on a terrace can offer a unique and enjoyable backdrop to having food and drinks with friends.
While the weather is warm, why not check out one of these ten best izakaya restaurants with open terraces? Enjoy your holiday like a local by relaxing with good food and drinks and socializing with the people around you at any of these great spots.
1. Tokyo Terrace 1983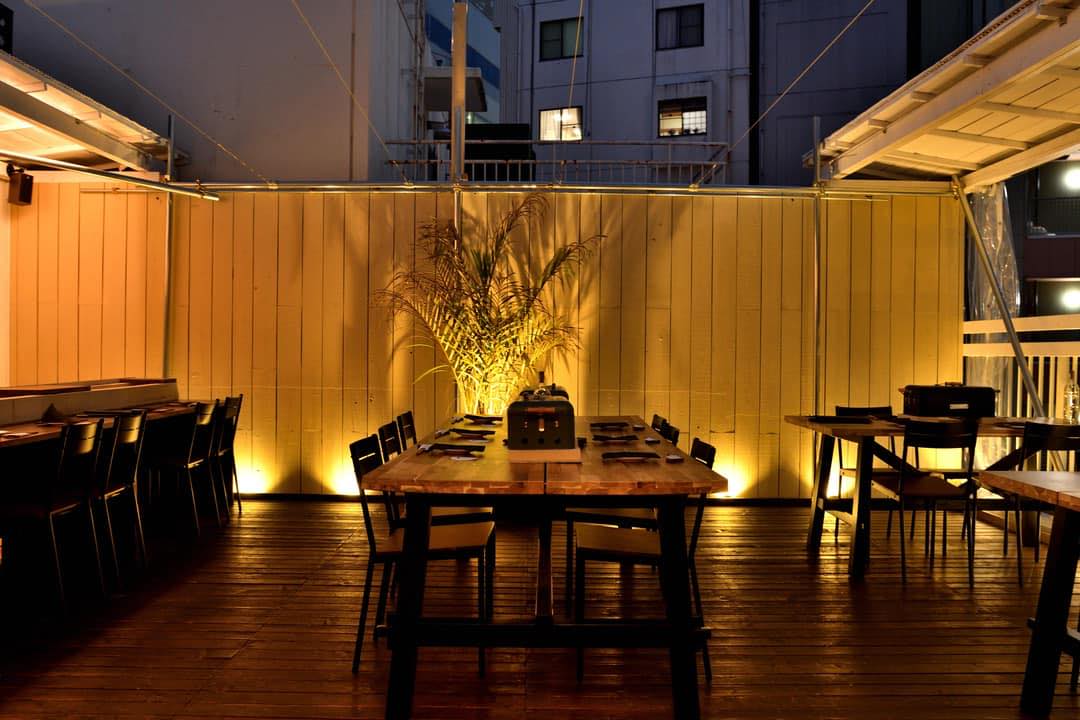 Designed to be an "adult's hideout" in the Asakusa area of Tokyo, this intimate restaurant is just that. With 20 seats outside and only four available inside, it's a small and cozy space to share food and drinks with friends. The restaurant's highlight, however, is offering fresh meat and seafood at reasonable prices. Everything is handmade wherever possible, and dishes like the steamed shellfish with herbs and Wagyu beef tataki are delicious standouts. While the terrace doesn't have a fancy view beyond it, the space is lovely enough to feel like you're at a nice friend's home.
2. Nihonbashi 1-1-1
Aiming to emphasize top-quality ingredients and service, Nihonbashi 1-1-1 also has a beautiful terrace. The riverside sets the scene at this izakaya, with tables and seats available for small to large groups. The menu specializes in Japanese food with seasonal, authentic dishes. The most popular course is the red sea bream Donabe rice, savory on its own but recommended to try with tea poured on top. Regardless of what you try, there will be plenty of sake and shochu to match.
3. Maruta Udagawacho
Have you ever gone camping in Tokyo? Probably not! The camping-themed gastropub Maruta Udagawacho may be the closest thing to pitching a tent in one of Tokyo's parks. Here is a piece of Shibuya where you can enjoy BBQ inside a wooden cabin or outside on the terrace. You'll have to try the roast chicken cooked on-site in their own Dutch oven, although there are so many tempting meals to choose from. Also billed as a beer garden, Maruta Udagawacho has plenty of brews alongside your typical whiskey and shochu cocktails. 
4. RESTAURANT 1899 OCHANOMIZU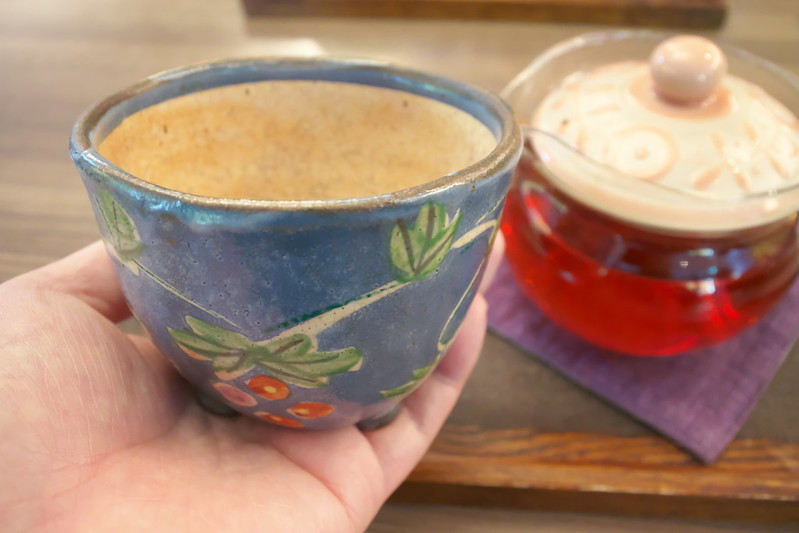 Here's a unique izakaya where tea is the main drink! The art of tea is elevated to new heights, captivating green tea enthusiasts and beer aficionados alike. Restaurant 1899 Ochanomizu offers something special with a matcha beer garden, wine, and cocktails. There are plenty of non-alcoholic tea options, decadent desserts, and tasty nibbles. But we're here for the terrace, are we not? The terrace provides a visually stunning setting and a relaxed place to sip and snack. While enjoying your drinks, you can relish in the fresh air and take in the surrounding sights and sounds of the city.
5. Karasumori Hyakuyaku
While the 6-seat patio may be small, it's the perfect place to eat and enjoy the all-you-can-drink menu. You'll find the stylish-looking izakaya along an alley on the way to Karasumori Shrine near JR Shimbashi station, adding some mysterious allure. Plates like deep-fried chicken or gyoza with miso sauce are perfect izakaya fare and pair well with drinks like beer and lemon sours. Since the restaurant is so tiny (and the patio even smaller!), booking a reservation in advance is recommended.
6. MIKASA BAR IL COVO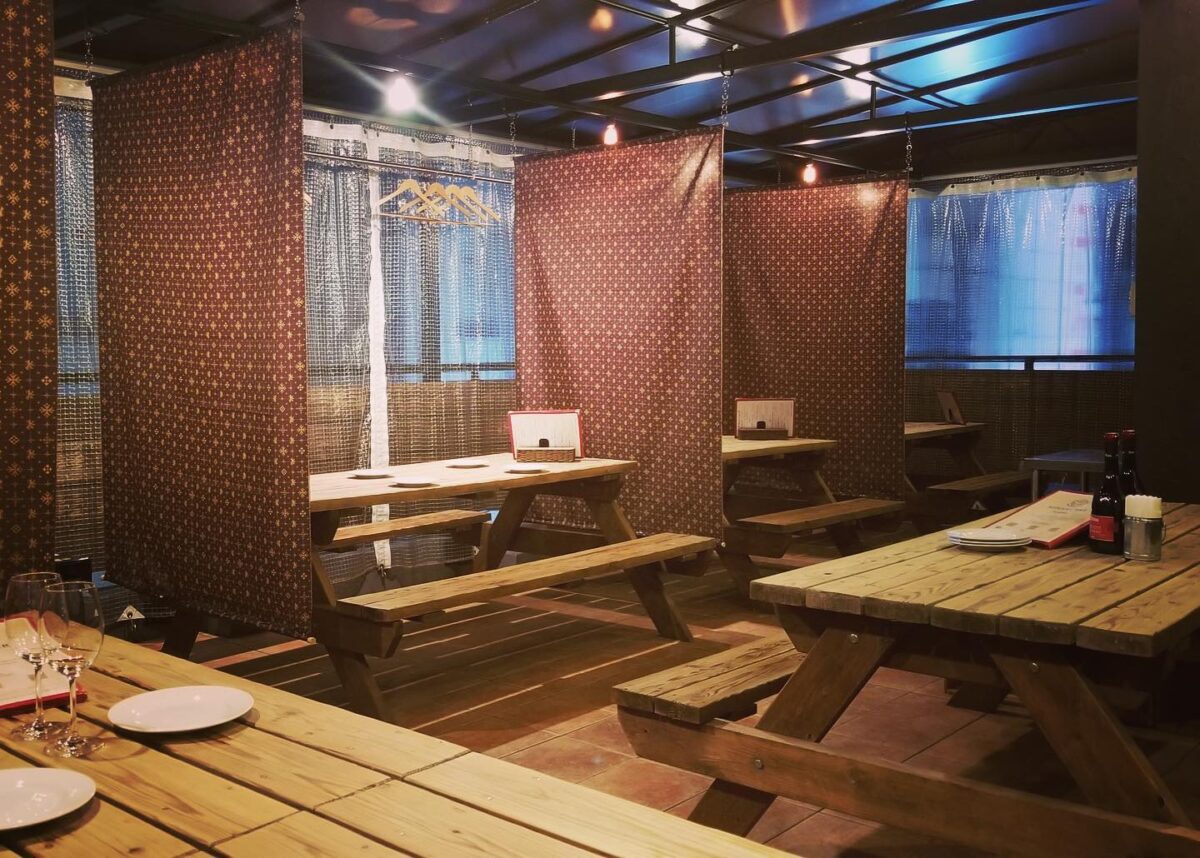 Mi casa means my house in Italian, and il covo means hideaway. Needless to say, you'll feel right at home in this tucked-away bar on the 3rd and 4th floors of an otherwise unassuming building in Shimbashi. Italian meets Japanese izakaya with authentic Italian cuisine in a Showa-era atmosphere. Thanks to the covered outdoor terrace, you can wine and dine perched among the neighboring rooftops.
7. Bon Hanabi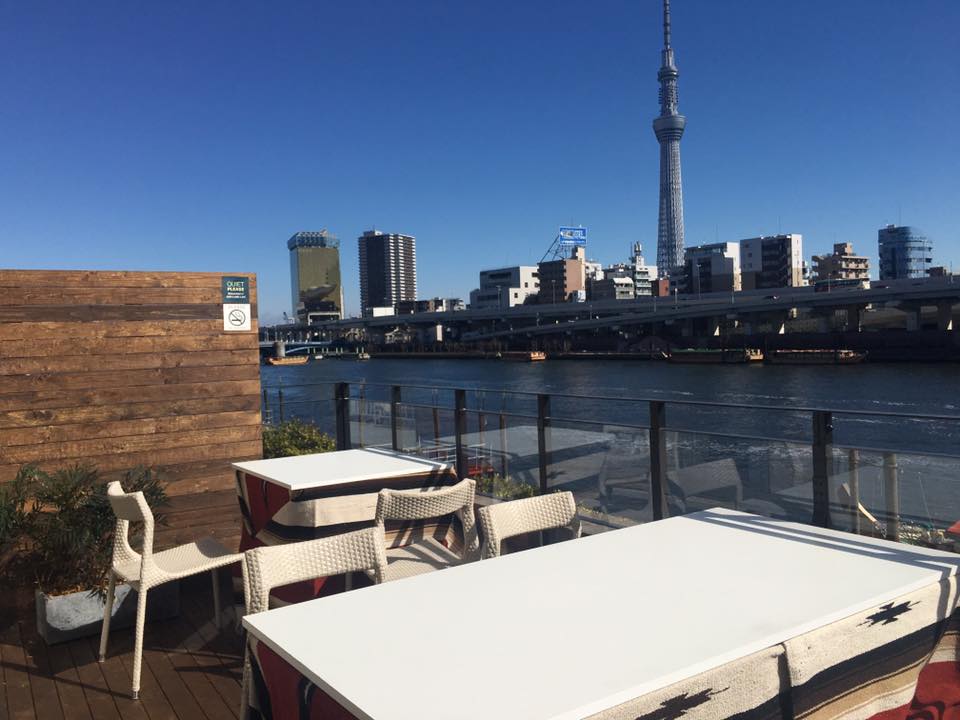 If a view of Tokyo Skytree sounds appealing, head to this laidback izakaya in Asakusa for casual bites, cocktails, and craft beer. Seated along the Sumida River, you can observe the iconic landmark while taking a break from sightseeing. Nibbles like dim sum and okonomiyaki will keep your tummy full while you drink. The food may be simple bar fare, but the web is full of rave reviews about everything being delicious!
8. Machikado Sakaba Santaro
We had to include a traditional standing izakaya to the list, and what makes Machikado Sakaba Santaro special is the covered terrace that is also part of the restaurant. While the standing space offers room for customers to grab a quick bite and drink, the seated patio running along the side of the building provides a more comfortable visit. Bites like fried chicken are served up alongside massive bottles of beer, and you know this izakaya must be good since it attracts mainly local customers to its Setagaya location.
9. Hobo Shinjuku Norengai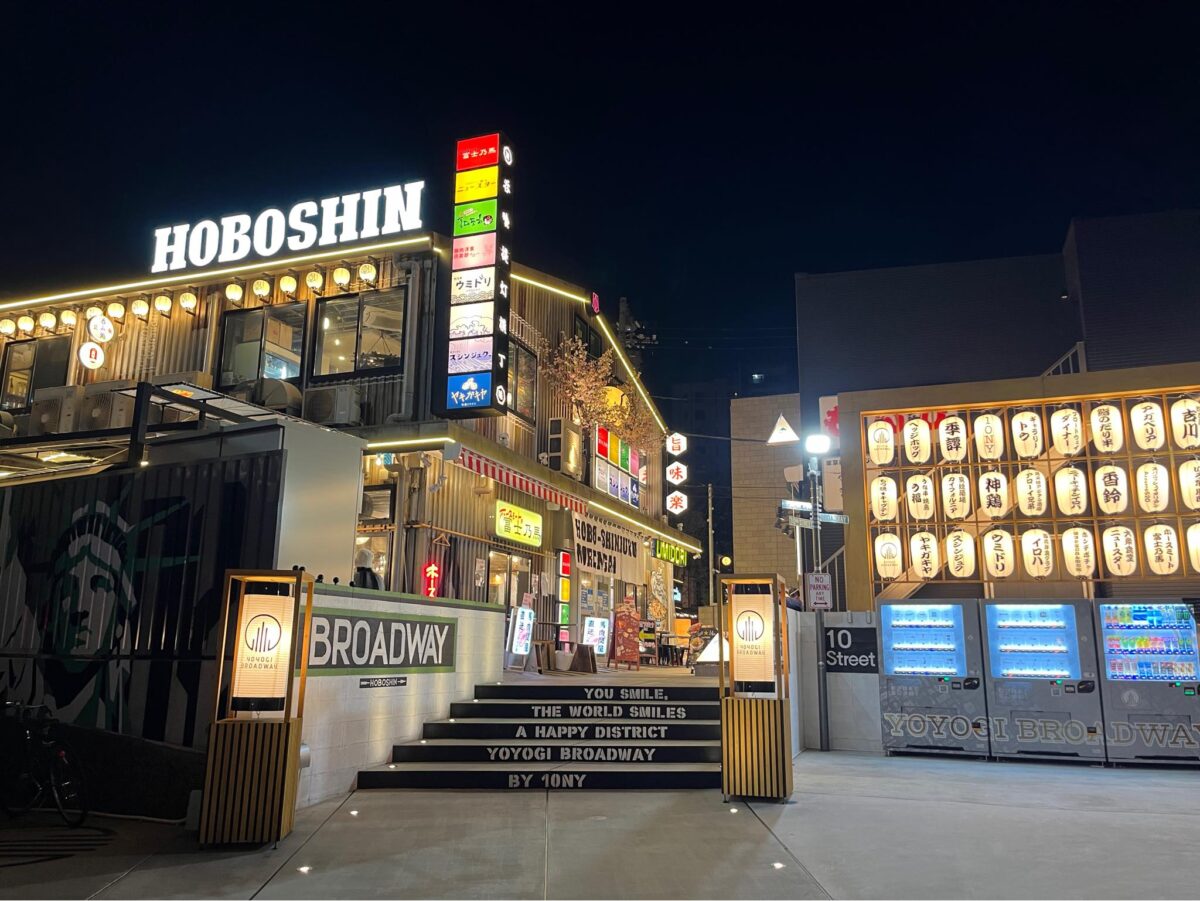 When your cravings can't be satisfied with just one type of cuisine, Hobo Shinjuku Norengai comes to the rescue with its spectacular selection. This remarkable establishment boasts ten different izakaya restaurants catering to culinary traditions like Spanish, Italian, Korean, Japanese, and more. This is perfect for anyone who likes bar hopping because you can stop and enjoy a drink at any or all shops here. The terraces open up and fill up as soon as the weather gets warm, infusing a summer vibe to the warehouse. Undoubtedly one of Tokyo's hippest yokocho, or food alley, Hobo Shinjuku Norengai takes things up several notches with its inviting outdoor seating arrangement. 
10. Kushikatsu Bochan To Ebisu
There's a great spot next to Ebisu Shrine in Shibuya for tasty fried meat, seafood, and veggie skewers. The restaurant is reminiscent of a Kyoto townhouse with a terrace in front and two floors of classic seating inside. What's unique is that this izakaya offers a healthier option of deep-fried kushikatsu made with special bread crumbs. The patio has picnic-style tables under bright red umbrellas, creating a comfortable and picturesque place to imbibe in the fresh air.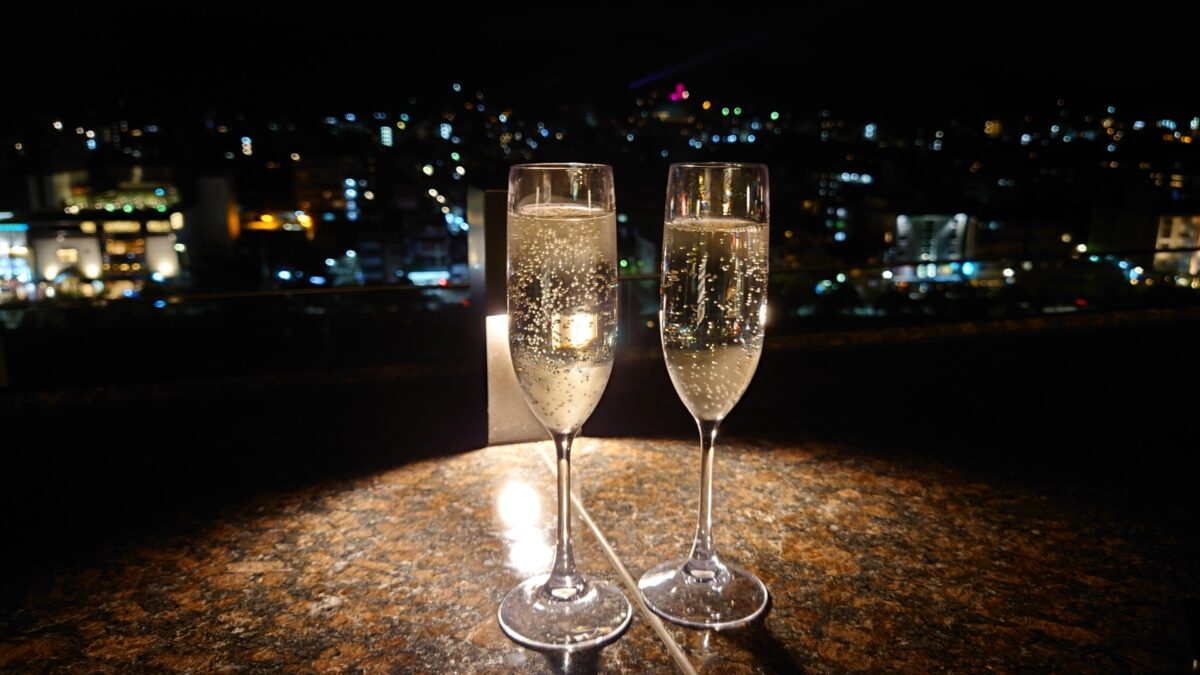 Don't let the summer pass you by without enjoying some of these outdoor terraces. Where are you headed first? And if you're looking for a guide to help you explore Tokyo's izakaya, look no further than a fully customizable food and drink tour!
Japan Wonder Travel Food Tours
Japan Wonder Travel is a travel agency that offers guided tours throughout Japan. 
From private walking tours to delicious Food and Drink tours, we can help organize the best tours just for you! If you want to explore Japan and learn more about the history and backstories of each area you are traveling in, our knowledgeable and friendly guides will happily take you to the best spots! 
In addition, we can provide you with any assistance you may need for your upcoming trip to Japan, so please feel free to contact us if you have any questions or need some help!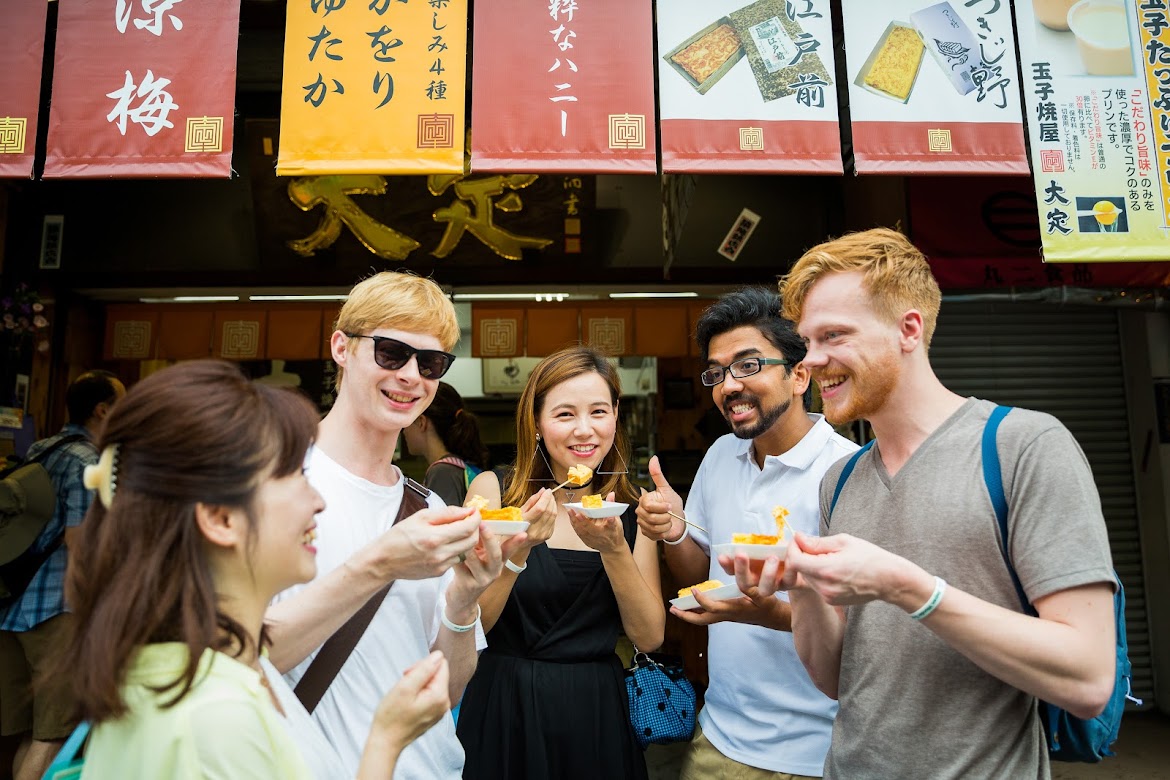 ▶Tokyo Local Street Food and Drink Tour @Sunamachi
This food tour will take you to one of the lesser-known areas of Tokyo, that is Sunamachi Ginza. You will walk through the shop filled street with your guide and be able to try some of the delicious local street foods including tempura, inari sushi, oden, among others!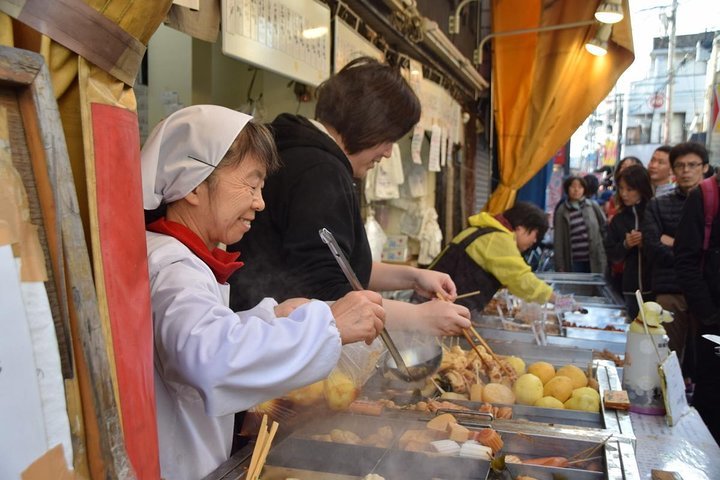 ▶Kyoto Food and Drink Tour @Nishiki Street & Gion
If you're looking to learn more about the culture and the local cuisine of Kyoto, this is the perfect tour for you! Take part in this Kyoto food and drink tour and explore the 400-year-old market and the famous Gion district.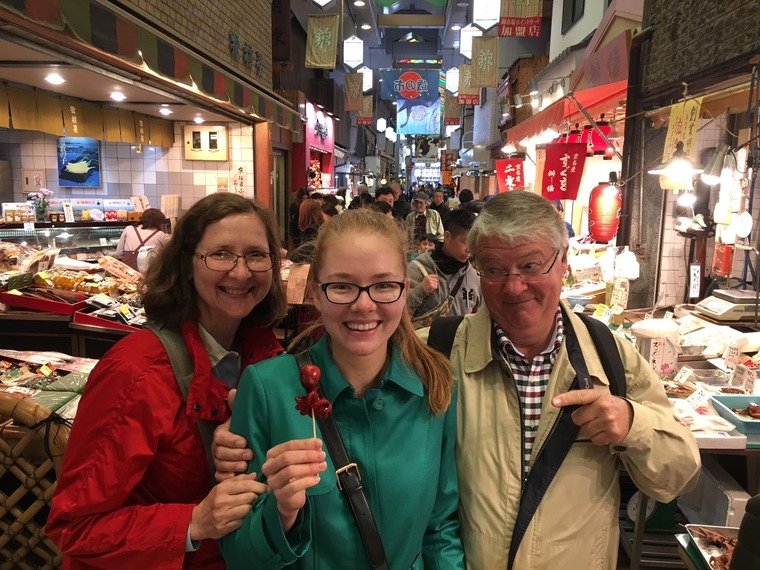 Follow us on Instagram, Facebook, Twitter, and TikTok for more travel inspiration. Or tag us to get featured!
Happy traveling!
Stay informed of the best travel tips to Japan, the most exciting things to do and see, and the top experiences to have with the Japan Wonder Travel Newsletter. Once every two weeks we will introduce you to our latest content.
Other articles you might be interested in